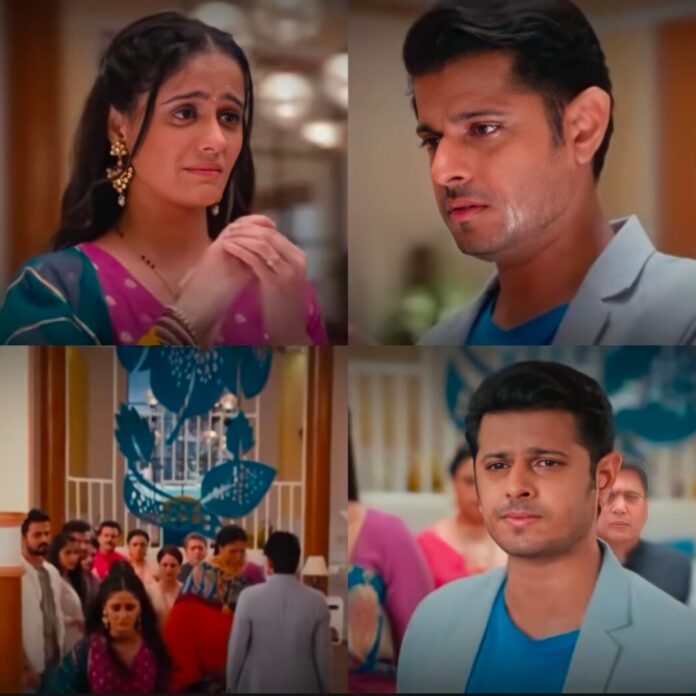 Ghum Hai Kisi key Pyaar Meiin Written Update | GHKPM 22nd January 2022 Written Update on SerialGossip.in
Episode starts with Karishma mocking Shruti, while Virat gets infuriated and shouts at her. He warns that he won't spare Karishma if she again talks bad about Shruti's character. She gets scared, while Sonali takes stand for her daughter-in-law and states that Virat can't talk to her like this. She ask him to command his orders on his duty and not inside their house. He takes his bags to leave, when Bhavani stops him asking that if he will leave then everyone will taunts about their reputation. Devyani also gets angry with Virat and breaks her friendship with him. He replies that he doesn't care about others and reminds that it's their decision to send him out of the house.
Here, Virat looks at Ninad reminding about his allegations and order to go out of the house. Ashwini says that it is because of his betrayal towards Sai and taunts him for his changed behaviour. Ninad ask her to stop stating that he won't see anything in front of Shruti. Meanwhile, Pakhi gets worried thinking that Virat is going away from her because of Shruti.
Pakhi stops Virat from leaving, while Samrat confronts him asking that where he will go? To which he replies that he will manage himself away from them and ask them not to worry about him. Samrat tells Virat that he should appreciate Sai for not lodging any complaint against him for betrayal, orelse he would have lost his job. Virat replies that Sai can complain against him, if she wants and shows that he doesn't care to lose his job also.
Elsewhere, Virat goes towards Bhavani and assures her that he remembers her values and morals. He bends down to take her blessings but she moves away. She goes towards Ninad and Ashwini also to take them blessings before leaving but they also denies and insults him. Meanwhile, Mansi shows her support towards Virat stating that he must be hiding something for some reason.
Shivani denies Mansi's words and says that she is wrong. She accuses Virat and shows her disappointment towards him. Virat bids adieu to everyone and goes away from there. Ashwini falls down as he leaves from there and cries. She breaksdown seeing his departure, while Devyani also cries stating that how Sai and Virat will come together as they both have left to different places.
Ahead, Devyani says that Sai and Virat will get separated from each other and they won't be able to unite them. Meanwhile, Virta reaches hospital and sees Shruti being unconscious. The doctor advice him to shift to an advanced hospital, so that Shruti can get better treatments, which will be good for her. Virat remembers his encounter with Sai where she taunted him that he tried to keep Shruti away from their hospital.
Pakhi worries about Virat and her relationship. She remembers the first time she came to Chavan's house and says that she have entered to be Virat's partner, but he betrayed her by marrying Sai. She says that now he left the house for Shruti and thinks that what she will do? At that time Samrat comes there and ask if she is fine? To which she replies positively, while he shows his anger towards Shruti and determines to teach her a lesson.
Further, Bhavani along with Ashwini and Sonali goes to the Puja in their neighbours house. She ask them to stop sulking and pretend to be happy. At that time their neighbours questions about Sai leaving their house and video of her mocking and blaming Virat. They talks bad about Sai, while Ashwini takes a stand for her and says that she won't listen anything against her daughter-in-law. Meanwhile, the neighbours mocks Virat's character and ask Bhavani not to ever advice th when she can't even handle her household matter. They makes fun of Chavans and laughs.
Precap:- Bhavani gets frustrated and states that she don't wanta to talk to anyone. She starts going upstairs, when Sonali mocks her for pouring her anger out on them. At that time Bhavani slips from the stairs and hits her head. Whereas, the nurse takes Shruti for the test, while Virat stays with the baby. Sonali gets shocked seeing him playing with baby.
Click to read