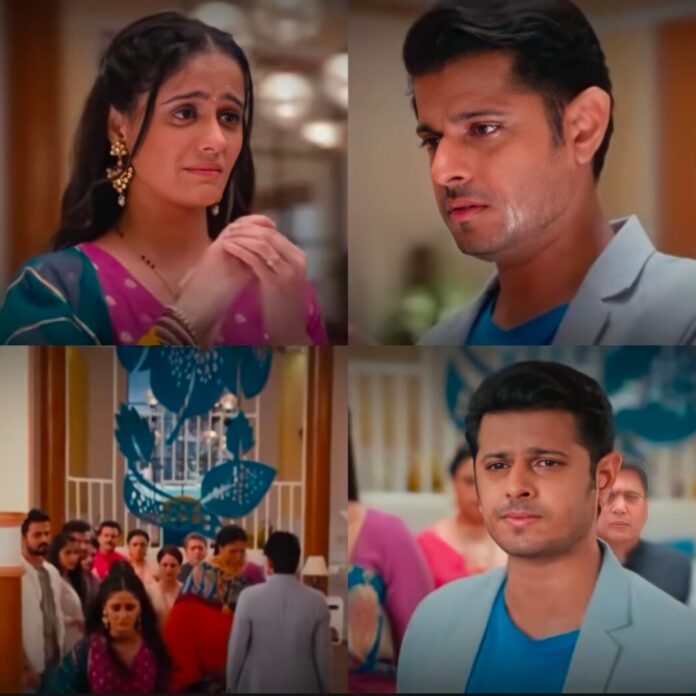 Ghum Hai Kisi key Pyaar Meiin Written Update | GHKPM 2nd March 2022 Written Update on SerialGossip.in
Episode starts with Virat's condition getting bad, while Samrat and Pakhi calls the doctor. Meanwhile, Pulkit arrives at the hospital and sees Sai. She questions him about Virat's condition as no one else is notifying her about him. Pulkit replies that the doctor called him urgently to discuss about Virat's case, while she ask if she can join? He reminds her about their conversation in which he made her understand to stay away from Virat. He goes towards the doctor and assures Sai that he will keep apprising her about everything. Whereas, she sees someone's dead body and gets worried for Virat.
Here, the doctor tells Pulkit that Virat's health is deteriorating and it is convulsing because of the nail stuck in his arteries. Pulkit ask him to start the operation, to which the doctor replies that they don't have the important injection which they needs for the operation. Everyone gets shocked, while Pulkit scolds the doctor for their carelessness.
The doctor tells that due to strike of the employees of that injection company their items haven't delivered yet. He says that they have to find the injection anyhow within 2 hours orelse they won't be able to save Virat. Pulkit notify Chavans about it while they gets dumbstruck. Whereas, Samrat and Pakhi tries to contact their friends for help.
Elsewhere, Chavans performs Puja for Virat's recovery. Ninad regrets his mistake, while Ashwini blames her to be the worst mother. Bhavani says that soon Virat will get cured, while Devyani panics for Virat and sees a horrifying dream of his death. She starts screaming while others controls her. Samrat notify Pulkit about it, while latter worries for his wife.
Samrat advice Pulkit to go check on Devyani, while latter nods and goes to Chavan Niwas. Whereas, Sai also learns about the lack of injection and gets tensed. She cries and then started calling her friends to find out about the injection. She learns that there is some injections available, but someone have to pick it up from the outskirts of Pune. She shows her gratitude towards her friend and gets hopeful to save Virat.
Ahead, Chavans also tries to contact their know ones to find out about the injection but gets unsuccessful. Sai calls Mohit to inform about the injection, but he doesn't receives it. She then calls Karishma but latter also doesn't answer her call. Chavans gets irked seeing Sai calling them continuosly and becomes furious.
Sai tries to call Pulkit, while latter also calls her at the same time and they gets a busy network. Sai gets worried and then finds Virat's car keys along with her. She takes it as a sign of God and remembers how she got the keys along with the other things of Virat from the nurse.
Further, Sai gathers courage and sits inside the car. She takes the address from where she will get the injection via her friend. He gets concerned for her, whereas she assures that she will be fine. She hesitates to drive, while at that time she imagines Virat along with her. She smiles looking at him, while he reminds her about the time when he taught her how to drive. She hallucinates him but soon realises that he isn't there. She panicks and crashes her car with a jeep.
Precap:- The jeep owner gets furious at Sai and confronts her. She also comes out of the car and tries to explain him, while he takes the keys of her car and threatens that he won't let her go till she pays him for the damage. She requests him telling that she have some urgent work, while at that time she hears some people changing God's name and starts chanting with them.
Click to read