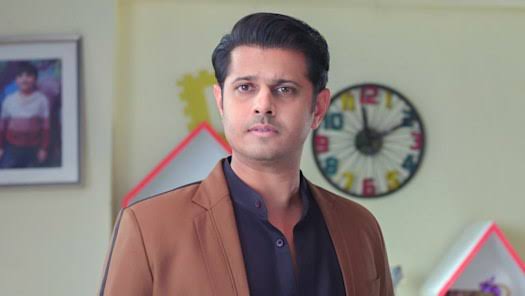 Ghum Hai Kisikey Pyaar Meiin Spoilers, Upcoming Story, Latest Gossip , Future Story, Latest News and Upcoming Twist on SerialGossip.in
StarPlus TV popular show Ghum Hai Kisikey Pyaar Meiin serial is witnessing some major turning points where Pakhi reveals truth to Vinayak.
As reported earlier, Sai asks Vinayak to wait. She says she has to talk with him. Savi asks why she is stopping Vinayak not her. Sai says it's a surprise for you so wait outside.
Everyone leaves. Outside, Pakhi spots Savi. She goes to Savi and asks where is Vinayak. Savi says my mom needs to talk to him so he is with her in the classroom. Pakhi is taken aback and asks if Sai is inside?
Savi agrees and says Sai is here to teach them extra classes. Pakhi fears and runs inside. Virat comes there and asks Savi to not go anywhere. He too goes inside.
Pakhi notices classroom is empty. She sees Virat and complains to him. Virat comforts her and they start to search for Vinayak. Virat asks if she searched the terrace. Pakhi realizes she didn't. They run upstairs. Sai is about to tell Vinayak that he is her baby.
Pakhi comes there. Before Sai could tell anything to Vinayak, Pakhi's fear of losing him will bring the truth to light. She requests him to not leave her. Vinayak goes to Sai and asks if she is his biological mother? Sai says yes and hugs him. She says he is her baby.
Vinayak asks Virat if Sai is saying the truth. Virat says whatever Sai is saying is true. Pakhi asks Vinayak what will he do after learning the truth. She asks if he will leave her.
Virat tells Pakhi that she is scaring Vinayak. She leaves Vinayak. Sai asks Vinayak to come to his mother opening her arms. Vinayak pushes Sai which shocks her.
In the upcoming episode, viewers are going to witness Vinayak feels excited knowing Virat is transferred to Mumbai. Pakhi tells him they are shifting to Mumbai forever. Vinayak dances happily. They hear a calling bell sound. Pakhi thinks Virat came. She goes out of the room and notices Virat is in the house.
She thinks about who came and opens the door. Pakhi and Virat get shocked to see Sai and Savi with their luggage. Virat asks Sai what is she doing here. Sai asks why they are looking tense seeing them and tells them she is back with her daughter to live with the family. Pakhi looks at Virat helplessly.
Will Sai be able to win her son? Whom will Vinayak choose?
All these questions will be answered in the upcoming episodes.
To know what will happen next in your favorite show, keep checking this space for new and exclusive updates.