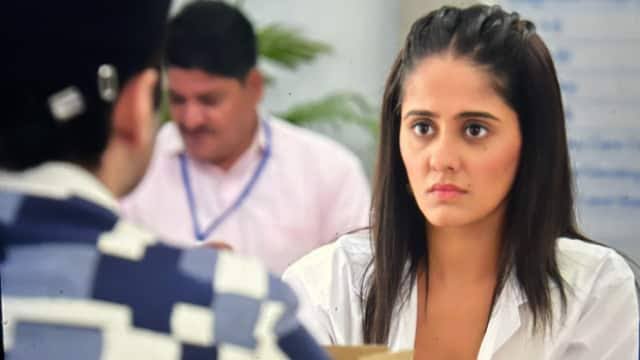 Ghum Hai Kisikey Pyaar Meiin Spoilers, Upcoming Story, Latest Gossip , Future Story, Latest News and Upcoming Twist on SerialGossip.in
Star Plus TV popular show Ghum Hai Kisikey Pyaar Meiin serial is witnessing some major turning points where Vinayak gets impressed with Satya's style of treatment.
As reported earlier, Sai takes Vinayak to her cabin. She tells him what she does and how she checks her patients.
She asks him to check on her and sleeps on the bed. Satya comes there. Sai gets up suddenly after seeing him and slips. Satya treats Sai. Vinu likes the way Satya treated Sai.
Vinu receives Pakhi's video call. Vinu attends it and tells her that he is with Sai for his project purpose and cuts the call.
Virat decorates the room. Pakhi calls him. Virat attends the call and says he is waiting for her call. Pakhi asks if he forgets what she said. She says I asked you to oust Sai from the house but you send Vinu with Sai to the hospital without informing her.
Virat says he sent Vinu to feel the real life experience. Pakhi says she knows his real intention. Virat asks her to leave it and asks her to come soon to see his surprise for her. Pakhi says it's a waste to talk to him and cuts the call.
At the outside tent, Vinu,Sai,Virat and Savi enjoy the pizza.
Pakhi returns home and feels happy seeing the decorated room. Pakhi searches for Virat. She sees Sai room is empty and thinks Virat may listen to her and sends Sai but where is Virat and Vinayak?
In the upcoming episode, viewers are going to witness Virat requests Pakhi not to snatch his happiness from him and let things go as they are. Pakhi asks if he will not ask Sai to go from their house. Virat says no. Pakhi says she will not ask him to ask Sai to go from their house. Virat happily hugs and thanks her.
Satya meets Sai in the Gudipadva shopping. He introduces Sai to his mother. Satya's mother asks Sai if she is not married as there are no marital signs. Satya diverts her. Later Virat rescues Sai but Satya's mother misunderstands him and warns him.
Will Pakhi accept Sai stay in their house?
Will Satya bring change in Sai's life?
All these questions will be answered in the upcoming episodes.
To know what will happen next in your favorite show, keep checking this space for new and exclusive updates.