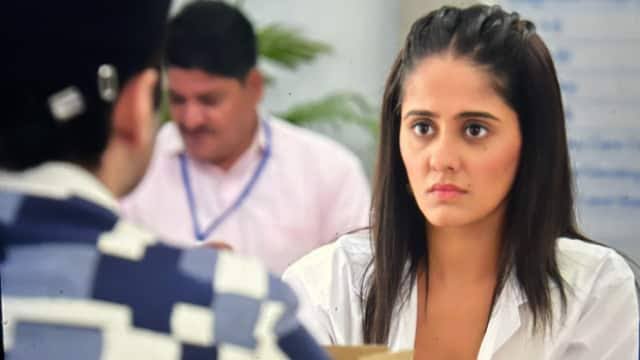 Ghum Hai Kisikey Pyaar Meiin Spoilers, Upcoming Story, Latest Gossip , Future Story, Latest News and Upcoming Twist on SerialGossip.in
StarPlus TV popular show Ghum Hai Kisikey Pyaar Meiin serial is witnessing some major turning points where Pakhi gives an ultimatum to Virat.
As reported earlier, Satya offers to clean Sai's apron but she denies it. He requests her to eat his homemade food. Sai denies it and warns him to leave.
Satya leaves. At Chavan's house, Mahila Mandal people create a scene. Virat rebukes them and makes them leave Chavan Nivas. Ninad asks Pakhi why she involved outside people in their house's matter. Omi says Pakhi crossed the line. Everyone shows their disappointment.
Pakhi says wow, you guys are saying I made a mistake by involving outsiders in a house matter but you guys are silent on Holi day when Virat called Sai his wife and you guys enjoyed it. Pakhi says Virat gave this idea to me. Virat asks what.
Pakhi says yes, in your inebriated state you asked Sai to fight with other women for her husband and I'm following it, listen to me that my husband is mine and this house is mine and Sai can't stay here.
She says I'm not any furniture to use and throw me and if you wants this situation to not repeat in the house then make sure to send Sai from this house and you have to do it before I return from the factory.
Everyone gets shocked.
In the upcoming episode, viewers are going to witness Sai will tell Virat that the new doctor is irritating and he troubled me so much.
Virat says he will teach him a lesson if he troubles her. Sai says he didn't cross the limit and I can handle him and I can't call Dsp to handle him. Virat says he is not only Dap but also related to her. Sai asks what's their relation.
Will Virat be able to send Sai from Chavan's house?
Will Satya bring change in Sai's life?
All these questions will be answered in the upcoming episodes.
To know what will happen next in your favorite show, keep checking this space for new and exclusive updates.