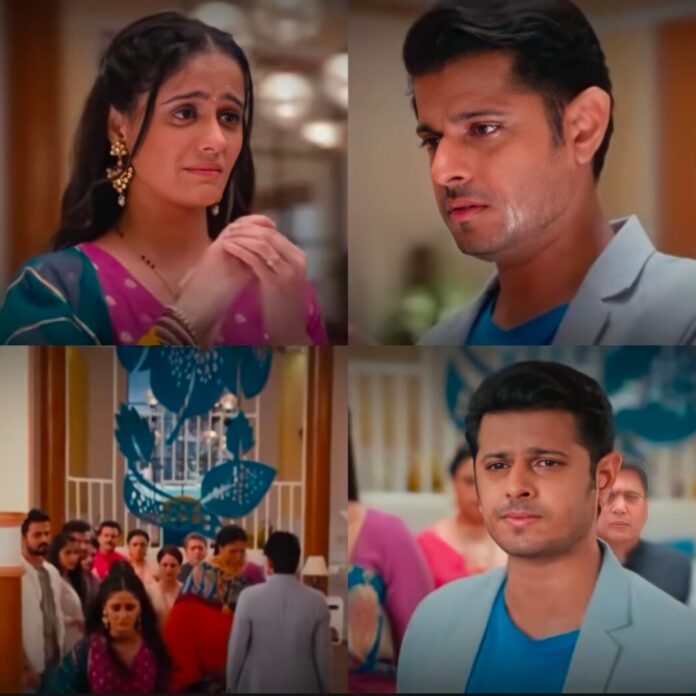 Ghum Hai Kisikey Pyaar Mein 17th March 2022 Written Update on SerialGossip.in
Episode starts with Sai getting inside the Chavan Niwas. She looks around the house and gets emotional remembering all her memories attached from there. She also gets flashes of her first time when she came there and everyone denied to accept her. She smiles stating that the situations are same and determines to convince the family once again. She goes towards the God's idol and prays about her problems. She says that he have already helped her to get inside the house and insists to be with her till she gets successful in getting Virat's forgiveness. She shows her faith to the God and goes inside the Virat's room.
Here, Virat feels pain in her arms. He tries to take the water but fail, while at that time Sai comes there and helps him with it. He glares her asking what she is doing inside his room. He orders her to go back to the room which was hers, to which she reminds, that time she haven't accepted him as her husband and that is why used to live away from him.
Sai determines to be with Virat in his room together and says that soon she will be able to convince him to forgive her. He gets irked by her and says that she can't forced him to forgive her and reminds about how she never trusted him. She apologises for her mistake and says that she is aware of her fault. She states that she genuinely wants to say sorry to him and tells that how she regrets her mistake all the time.
Elsewhere, Virat makes fun of Sai and states that he won't forgive her. He says that she entered the house forcefully, but couldn't be able to enter inside his room. She challenges him while he gets furious at her. He scolds Sai whereas Devyani comes there.
Devyani gets scared of Virat's anger and questions if he will scold her also? To which he assures her that he won't, while Sai tries to comfort her stating that she is his favourite sister and he can never be mad at her. Devyani rebukes Sai asking her to stay silent. She blames everything on Sai and requests Virat to eat prasad with his family.
Ahead, Virat denies to eat along with the Chavans while Devyani requests her. He finally agreed and sits with his family. Sai also joins them, making Bhavani irked. She intentionally praises Pakhi in front of everyone and says that she makes tasty prasad. Sai understands her intentions and says that prasad always tastes good, no matter whoever makes it.
Pakhi goes towards the God and says that everytime she tries to impress Virat, Sai comes in between them. Bhavani praises Ashwini also for not being emotional fool by Sai and going against her. She scolds Sai stating that she won't be able to stay there forcefully for a long time, while Sai threatens them about calling the inspector back.
Further, everyone praises Pakhi's handmade prasad. Ninad starts coughing while Sai rushes to serve him water but he denies to drink from her hand. Mansi ask him not to drag the issue and orders him to drink it, while he takes it from Sai. Meanwhile, Chavans ask Virta not to worry about Sai and ask him to live freely, while he stays silent. Meanwhile, Bhavani insists Pakhi to serve the sweets to Virat, while Sai confronts her asking why she is more interested in serving Virat rather then her husband Samrat.
Precap:- Bhavani declares that Sai will cook away from them. She ask Sai to bring her own cooking tools and make her food separate from them. Sai protests and ask Ashwini to make Bhavani understand, whereas latter begs Sai not to involve her. She says that already because of Sai she have lost her son and doesn't want to go away from her family also. Sai becomess shocked, whereas Virat declares that he won't ever be having food with them together, while Chavans gets dumbstruck.
Click to read