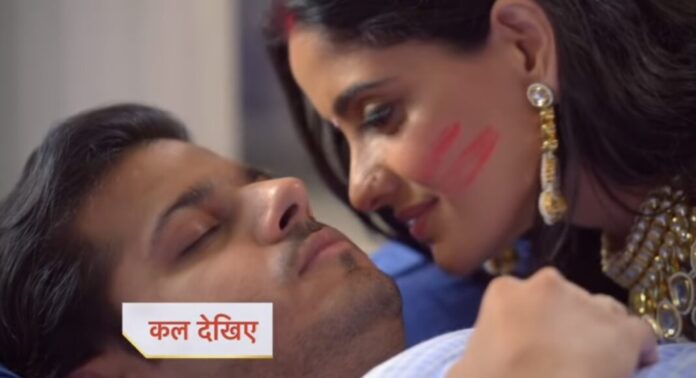 Ghum Hai Kisikey Pyaar Mein 24th March 2021 Written Update on SerialGossip.in
Episode starts with Chavans blaming Sai for troubling Virat and ask her to stay away from him. She replies that Virat loves her a lot and is hiding his feelings only because he is angry at her. She says that she will surely get his forgiveness along with his love. She determines to reconcile with Virat and states this confidently in front of her family members. Pakhi glares at her and tries to instigates Chavans against Sai, while the latter confronts her and gives a warning. Bhavani takes a stand for Pakhi and ask Sai to stay away from their family. Whereas, Sai goes towards the God's idol and prays for Virat's recovery and ask for help in getting his love back. She gets excited thinking about reuniting with him and states that with the help of God she will surely be able to get him back.
Here, Virat shares his feelings with Sai's father's potrait and states that he used to love Sai a lot but after seeing that she have no trust upon him, he regretted having feelings for her. He states that now he don't have any love for either his family, or Sai in his heart and proclaims that he will never forgive Sai.
Chavans waits for Virat to come down and misses him in their holi celebration. Shivani says that the function will be incomplete without Virat, while Karishma looks at Mohit and tells that since the time he stopped following Sai, he started giving more attention to her. She says that she is liking the change in Mohit, while he stays silent.
Elsewhere, Mansi reminds everyone about Pakhi and Samrat's first holi celebration after their marriage, while he brings Pakhi near him to show their love in front of the family. Sonali shows her excitement and congratulates the couple. Whereas, Mansi Ashwini goes to talk to Virat. She plans to bring him down to celebrate Holi with them.
Ashwini goes inside Virat's room and ask about his health. She then tells him that everyone is waiting for him. She requests him to come with her and reminds that how much he used to love Holi festival. He gives a sarcastic smile and tells that he doesn't like it anymore. He reminds that everything has changed and ask her to leave. She starts her emotional drama and begs him to come with her, while he gets furious and opens his cupboard to bring the suitcase bag.
Ahead, Ashwini gets scared and tries to stop him. He warns her not to emotionally blackmail him orelse he will go away. She accepts his demand and goes away from there. She notify her family about it, whole everyone gets worried. At that time thery smells some smoke and goes to see the matter.
Chavans gets shocked seeing Sai making her separate cooking stall and trying to make something. She sees them and excitedly told about preparing foods for herself and Virat. She reminds that Bhavani only told her to prepare their food separately, while they gets furious at her. Bhavani scolds her for cooking outside the house, so that neighbours can learn about their problem. She taunts her for ruining their reputation.
Further, Sai denies all the allegations and says that she prepared everything at the backyarf of the house, so that no guest can learn about it. She then takes the ingredients and goes inside the kitchen to take the vessels, but Bhavani stops her from taking their vessels. Sonali fights with Sai and snatches it, whole latter shows the name upon the vessel and tells that these were given by her father for her marriage. Meanwhile, Pakhi ruins Sai's cooking stall by pouring water on it along with Karishma. Sai confronts Pakhi while Ashwini ask them to stop all the drama. She cries telling about Virat's decision, while Sai tries to console her. Ninad stops Sai and declares that she is no one to them, she feels hurt but assures herself that deep inside they do care about her. Whereas, she determines to bring Virat for Holi function.
Precap:- Sai stops Chavans from celebrating Holi without Virat and ask how they can enjoy without him? Ashwini cries and tells that she went to bring him down, but he denied. Pakhi tells that they all cares about Virat and ask Sai to stop showing off. Where, the latter proclaims to win Virat's heart and blows a vessel, signalling the police officers to come inside.
Click to read