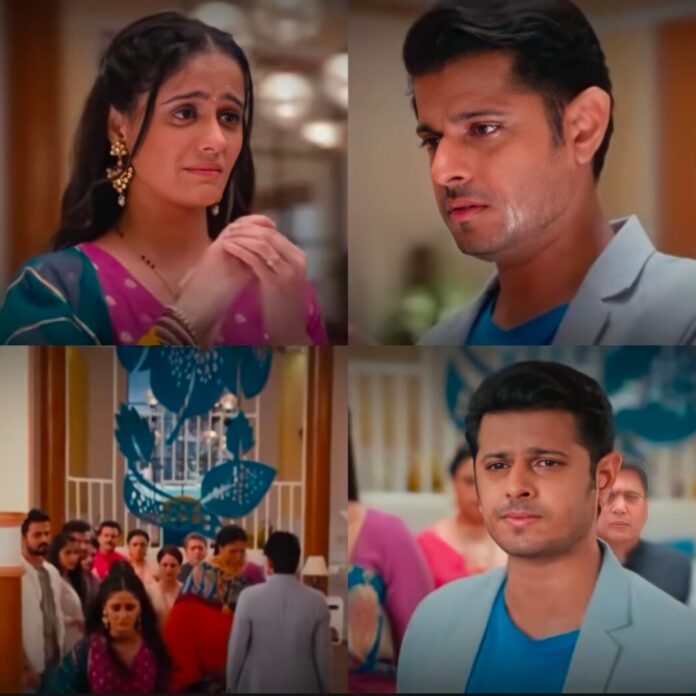 Ghum Hai Kisikey Pyaar Mein 9th March 2022 Written Update on SerialGossip.in
Episode starts with Ashwini insisting to meet Virat, while Ninad assures her that they will soon see him. Whereas, Chavans gets elated seeing Virat awake and decides to celebrate it. Samrat notify that Virat is weak after the surgery and ask them to be gentle towards him, whereas a nurse passes by them and advice them not to give any stress to Virat. They agress to the instructions and gets inside Virat's cabin to see him. Devyani says that she promised to sing a bhajan for God after Virat's successful surgery, but gets worried stating that she don't know how to sing it, while others laughs seeing her innocence. They all goes together inside the cabin and gets emotional seeing Virat's state. He looks at them being furious and glares Bhavani.
Here, Bhavani along with other family members shows her gratitude towards the God. She shows her happiness towards Virat, talking about his recovery. He keeps glaring at her, while she declares that now no one is there to come in between them or cause any problem in between their relationship. She indirectly taunts Sai for creating troubles for them.
Bhavani decides about celebrating Virat's recovery, while Ashwini keeps looking at her son with regret of not trusting him. She shares her pain with Ninad, while he consoles her. Virat looks at Bhavani and starts speaking against them. He says that how she didn't trusted him, when he needed her support.
Elsewhere, Virat taunts Bhavani for believing others instead of him and putting allegations of him of being disloyal. He says that she have known him since childhood and still couldn't able to trust him. She tries to explain him and ask him to give them a chance. She states that she have done a mistake and blames Sai for it.
Virat gives a sarcastic smile and states that it is easy to blame others for their doings. Whereas, Bhavani says that she have already considered him as an image of his uncle. She says that she never lost trusting him but was just manipulated for sometime. He denies to accept their apology and says that he can never forgive them.
Ahead, Virat declares that the time he left the house, he had also broken his relationship with the. Chavans gets shocked hearing his statement. He looks at Samrat and taunts him for showing care. He reminds Samrat that how he tried to kill him and says his statement that only Sai mattered to him. Samrat feels guilty, while Virat looks at Mohit who shows his excitement for Virat's recovery.
Virat gets flashes Mohit about his taunts and reminds him the time when he have broken his relationship with him. Mohit feels guilty and insists Virat to forgive him, but latter denies. He sees Ninad and reminds how he have cursed him. Virat feels hurt remembering their behaviour towards him and gets teary eyes. He sees Devyani and tells that she have also ended her bond with him, while she cries and ask him to forgive her.
Further, Omkar request Virat to give them a chance while he tells that Omkar doesn't wanted to keep any relationship with him. He reminds that how Sonali was more worried about their reputation and neighbours instead of him, while latter regrets. She cries being emotional, while Ashwini keeps staring at her son. Virat controls his emotions and declares that he won't ever forgive them and ask them to go away from him.
Precap:- Virat's friend shows a car to him stating that his family have sended a decorated car for him in order to wish his speedy recovery. He sees the car while Sai comes out of it wearing driver's costume. He ask her to leave him alone and goes away from their being furious. Sai smiles and says that she knows where he can go. She determines to convince him.
Click to read