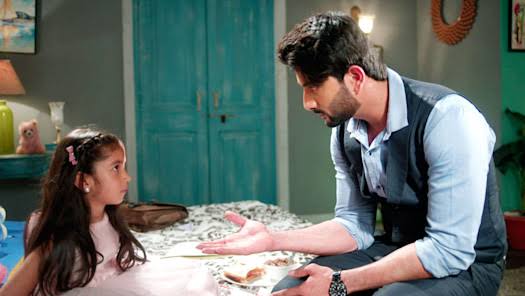 Imlie 17th September 2022 Written Update on SerialGossip.in
The episode starts with Imlie praying to God for her family and for her children. Malini comes there in her car and says this is the right occasion to come here as it's the naming ceremony of Imlie's daughter, how could she miss ? Imlie protects the Diya flame when its about to get blown off. She gets worried and Aryan calls her to sit for the puja. Sundar asks Imlie why the latter is looking at walls.
Imlie shares her worries with him that she can sense some danger. Malini comes in by hiding her face and sees the bomb she brought. She is about to fit it under a desk and Sundar sees her from behind. He assumes it can be Malini but it turns out to be another woman. Malini executes her plan and says she will now fix the time of Imlie's death. Her phone falls off and the bomb timer gets activated much before she thought. She prepares to leave as soon as possible.
Aryan and Imlie decide the name for their both daughters but before they could tell this to the priest, one bomb blasts. Everyone starts running here and there. Imlie and Aryan tell their family to leave as they will save their daughters before saving themselves. Imlie finds Chini and her daughter at last and informs Aryan. Malini falls down and her leg gets hurt. She tries to free herself but fails. She says Imlie has to die. Imlie is about to leave with Chini but notices Malini there. She is shocked to find her. Chini goes near Malini and the latter tells her to call her mother. Chini says Imlie is her mother not she.
The other bombs blast. Imlie and Aryan get injured, they open their eyes after sometime and can't get up. Aryan tells Imlie why she didn't leave when he told her. She didn't obey him and she replies he also didnt leave. Malini starts brainwashing Chini that Imlie doesn't love her at all. Police comes to Aryan and Imlie's rescue. The pillars fell on them so they are unable to move. Police goes to arrange for some help to save them. Rathores come there to help Aryan and Imlie. They get emotional.
Malini says Imlie used Chini when she didn't have her own child. But she has her own daughter now so she won't consider Chini as her daughter. Imlie even didn't give the right to Chini to call her mother. She rejected the old doll to get a new doll. Imlie tells her family to take care of Chini and she couldn't hear mother from her mouth, maybe she will never get to hear that. She says Chini should be away from Malini's evil thoughts.
Malini asks Chini to snatch her rights from the world and won't just ask for it and she should remember Malini was her mother. Chini promises Malini and the latter dies. Aryan says now his no words are pending. Imlie says they will leave together the world as partners. Rathores break down to tears and Imlie recalls her dialogue to Sun, and also recalls her Meethi and Satyakam. She closes her eyes and takes her last breathe with Aryan.
Precap- Imlie says her daughter Imlie is simple and loving. She comes under influence a lot. But Chini is smart but crosses her limits. Chini says she didn't get any message from her mother though Imlie got it from her mother.
The episode starts with Aryan telling Imlie that he is ice and she is fire. He can melt near her. He gives her a forehead kiss and says they will never get separated from now on. Imlie says she wrote letters for her baby and she has the diary too. He asks her she wrote things for their baby but what about baby's father. He gets close to her and she asks what does he want?
He replies he only wants her. Imlie feels the labour pain and Aryan starts panicking seeing her condition. He drinks water and she tells him to take deep breaths. He takes her to the hospital. Malini holds a bottle and Anu snatches it from her saying why the latter wants to commit suicide? Malini says she wants to sleep well tonight so she took one pill. Tomorrow is an important day. She says she was weak before and was mad for Aditya. But Anu taught her how to turn her weakness into strength. Her hatred for Imlie is deep.
Aryan gets nervous in the hospital and his family tells him to stop worrying. He says he is becoming father for the first time. They hear baby crying voice and the nurse congratulates them saying it's a baby girl. Aryan holds the baby in his arms and he kisses on her forehead. (Ae Dil Laya hai Bahar plays in background) Chini comes near Imlie and says to her little sister that they will always stay together with their parents. Narmada blesses the little angel. Aryan holds Imlie's hand and she sheds happy tears. Rathores perform puja in the mansion. Narmada addresses the baby girl as Laxmi and Sundar says its a suitable name too. Narmada says but they will decide the name during naming ceremony only.
Click to read