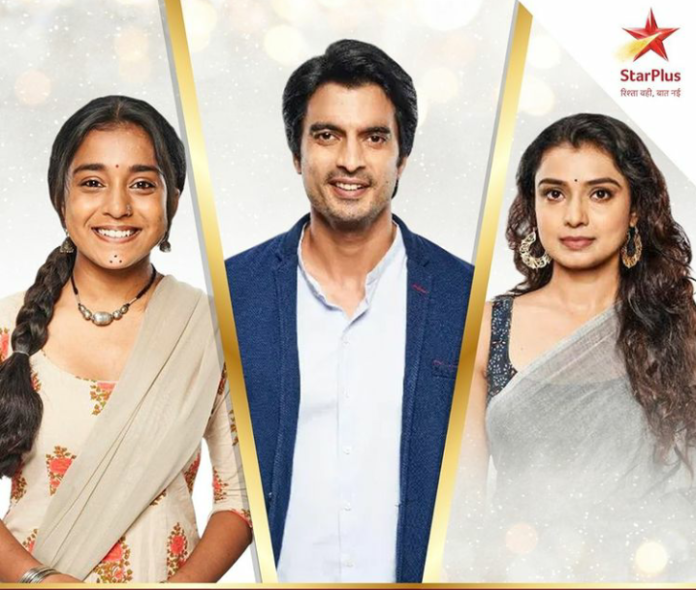 Imlie 19th April 2021 Written Update on SerialGossip.in
Episode starts with Malini explaining about college library and teachers' room. Somebody calls Malini to talk with her. Malini tells Imlie to stay there. She will be back. Imlie notices everyone is giving her weird look. They laugh at Imlie. Imlie recalls how she has to be confident enough to deal with everyone. Students make fun of Imlie's name. They try to rag her. They say Imlie belongs to a village how she got admission in a top college. Imlie hits back saying though she didn't get the facilities and other advantages like other students. But she won the chance to study here not like rest whose parents gave money for their admission.
She struggled a lot. Imlie threatens them not to misbehave with her. One student's hiccup starts. Imlie punches on his back. His hiccup stops. Imlie says see being a village girl how much powerful I am. Imlie gets overexcited and mistakenly pushes one professor. Imlie holds his leg and apologises to him saying please don't throw me out of the college. Malini also comes and apologises to professor. Professor says to Imlie that he is proud of her. He praises her for what she has achieved.
Students make a plan. Malini scolds Imlie for her stupidity. She says Imlie won't do it again. Imlie was about to go upstairs but water falls on her. Students laugh at Imlie. Her vermillion washed away due to water. They ask Imlie why she got married at an early age. Imlie doesn't find answer. Malini shouts at the students and tells them to meet her in Principal's room. Later she tells Imlie I told you, you won't apply vermilion.
Aparna notices Nishant's medicine. Nishant lies saying its multi vitamins tablet. Aparna tells how Nishant was excited to marry Pallavi. He introduced her to Tripathis. Nishant thinks he still loves Pallavi but can't get married to her because of his disease. As Pallavi's life will be ruined. Aparna tells about one photo of Pallavi which Nishant kept in his cupboard still. Nishant says he is happy with his single life. He doesn't want to marry. He diverts their mind. Aparna and Radha leave from there. Nishant says he can't reveal the truth.
Meethi is left shattered recalling Prakash's words. Prakash wakes up from sleep and starts making excuses that he doesn't like Aditya so he lied about him. Whatever he said at drunken state were false. Prakash requests Meethi to to talk to her. Meethi slaps Prakash saying everyone is betraying her, even her daughter. Now who is left. Meethi says she can't tolerate anymore. Meethi asks Prakash then how Imlie is staying in Aditya's house. Prakash says she is staying as relative of Aditya.
Prakash says Imlie herself doesn't want truth to come out. She covered up the matter. Meethi loses her calm and pours kerosene on herself. She tries to commit suicide saying now Imlie is living her life without a name like her mother. Meethi says I can't see that. Prakash stops her and says ending your life is not the solution. One village lady comes to stop Meethi saying Imlie has nobody in the world except her mother. Prkash tells he is with Meethi, she doesn't need to worry.
Nidhi suggests everyone that now Imlie should get phone as she started going to college. Harish says after seeing phone Imlie won't concentrate on studies. Aparna says Imlie welcomes troubles for herself. Giving her phone is needed.
Malini vents out her fury on Imlie for not listening to her. Malini asks when she herself removed the sindoor before entering college then why Imlie applied it again. Tripathis get shocked to know about it. Malini says students made fun of Imlie due to that sindoor. Malini grows suspicious and asks Imlie where she got sindoor. Malini checks the bag of the latter and finds the box. She gets shocked and is it just a ritual or some kind of Puja or Imlie is hiding something. Malini asks Imlie about the truth. Imlie says sorry. Malini says you say sorry everytime then repeat the same mistake all over again. Malini throws the sindoor box angrily.
The Episode ends
Precap- Malini gives her sindoor box to Imlie saying apply it as well if you won't listen to anybody. Aditya gets worried.
Click to read: