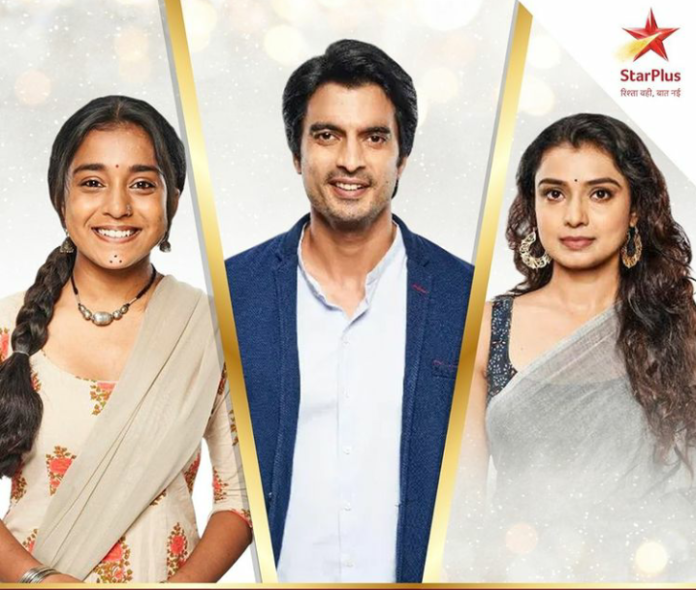 Imlie 27th November 2021 Written Update on SerialGossip.in
The episode starts with Imlie hiding under the desk seeing Aditya. Aditya wonders why his desk is clean. He decides to leave for home. Malini suddenly comes and says she thought to meet him as she was worried. His article didn't get published on front page. Aditya says she shouldn't have come here. Malini wonders where is Imlie if she isn't in the office. She sees her under the desk and hides it from Aditya. She decides to use this card later. Imlie thinks why Aditya doesn't feel she is telling the truth. She gets upset and sleeps.
Narmada says Aryan is not interested in any girl. Arpita says she will throw a party for him and will call girls there. So he has to attend. Imlie wakes up and the cleaner cleans the office. He doesn't sees her. She says before Aryan comes to the office she will take bath.
Imlie after taking bath sings song and takes her wet clothes. Aryan comes behind without her knowledge and she gets shocked seeing him. Her wet hair touches his cheek and he gets irritated. He asks her what she is doing in wet hair and wet clothes in his office. Imlie stammers and gets nervous. She makes excuse and Aryan tells her not to repeat this stupidity again. Imlie gets annoyed and says she can't live in the office for long else Aryan will kill her.
Aryan finds Arvind's news file is open. He says who can do this. He hears Imlie is singing bhajan with ringing bell. Imlie ignores him and does puja. Aryan catches her saying why is she ignoring him. Imlie tells him to take off shoes as she is doing puja. Aryan warns her saying if he finds her doing all this puja, singing dancing and all. He will fire her immediately. Imlie thinks if Aryan learns she is staying in the office he won't spare her. Imlie tells Aryan to take Aarti. Aryan takes aarti and leaves.
All employees notice that. Aditya recalls Malini's words and Imlie gives aarti to everyone. Aditya asks her she used to do aarti at home then why she is doing it in the office for whom. Imlie angrily says he is again asking her wrong question. Aditya says this is office they can't argue. He knows she makes her own rules and now she cares for her special friends too. Imlie gets disheartened.
Aparna talks about natural hair color and Rupy tells Pankaj that she will repair her phone. Malini gets stressed and says she ordered breakfast for everyone. They can go after eating. Malini goes to Rupy's room to find the phone. Rupy calls in the repairing store to know if its closed or not. Malini gets the phone and hears her voice. She doesn't take the phone thinking Rupy will catch her red handed. She locks the drawer and thinks of hiding the keys.
Precap – Aryan finds Imlie is sleeping in his office. He questions her.
Click to read