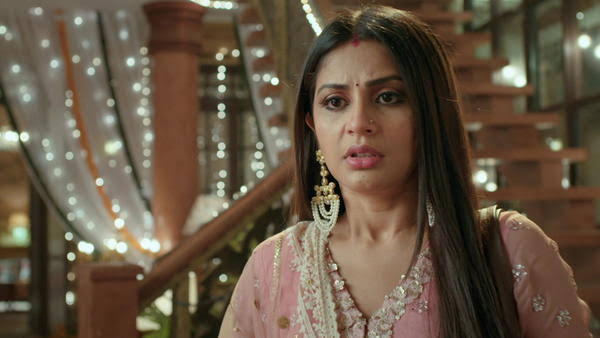 Imlie Spoilers, Upcoming Story, Latest Gossip , Future Story, Latest News and Upcoming Twist on SerialGossip.in
Star Plus popular show Imlie will witness a turning point in the show. Imlie is aware of Chini's vile games and now she has come up with a plan to teach lesson to her. Will Arto and Imlie get separated in the end? It will be exciting to watch.
Previously it was shown Chini got shocked to see no sign on the paper and got to know Arto is with Imlie. Imlie said that she loves him and thus she has done many things for him. Chini also confessed all her crimes about her suicide drama and attempting to kill Imlie just to get Arto.
She got slammed by Rathods for her deeds. They also scolded Anu for brainwashing Chini and making her another Malini. Chini seeked revenge from Imlie and threw a burning wood at her but Arto saved Imlie.
Imlie cut ties with her. Later Imlie decided to leave Rana House but Sundar and Arpita told her to give one chance to Arto as he changed. Devika told him the same.
In the upcoming episodes it will be seen Devika will ask Arto to stop lmlie but he will say that he cant force her for anything. Rupy will request Imlie to give one chance to Arto. Imlie will taunt Chini before she leaves.
Arto will confess his feelings for Imlie in front of Chini. He will say that he always loved Shayara and she was always Imlie not Chini. Chini will leave angrily thinking she will avenge Imlie soon.
Later Arto will ask Imlie not to take stress because he only shared his own feelings. She will also try to speak those three words I love you for him. But she won't be able to finish her sentence and the house will be filled with smoke. Rana's will get kidnapped by Chini and will be taken to a godown.
There Chini will try to forcibly marry Arto and will torture his family members. At house Imlie will fume seeing Chini crossed all limits. Arto will refuse to marry Chini.
Later Arto and Imlie will take pheras around the holy fire again and will take new vows. One mysterious person will arrives and will call himself as Dhairya.
Will Chini get arrested ?
All these questions will be answered in the upcoming episodes.
To know what will happen next in your favourite show Imlie, stay tuned to this space.