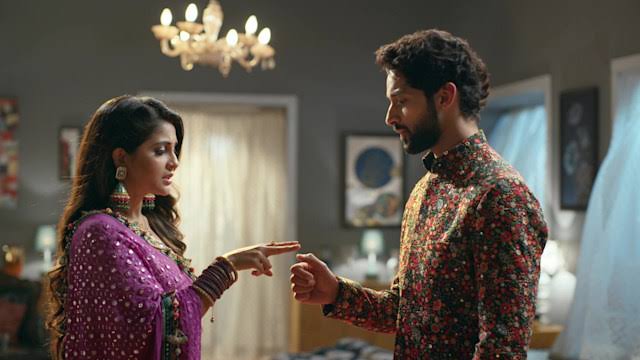 Imlie Spoilers, Upcoming Story, Latest Gossip , Future Story, Latest News and Upcoming Twist on SerialGossip.in
Star Plus popular show Imlie will witness a turning point in the show. Imlie is ready to help out Arto so that he moves on in his life and forgets Chini. How will Imlie do that? It will be exciting to watch what's in store for us.
Previously it was shown that Imlie got disheartened after Arto left her room. Imlie failed to concentrate on puja but Chini told her to unite two lovers and it's no less than worshipping God. Imlie warned her not to play dirty games with Arto this time.
Chini asked her not to become protective for Arto as she will lose him soon. Ahead, Chini told Imlie to reveal the truth to Abhishek as the latter helped her a lot. Imlie gave Abhishek a hint about Chini and Arto's affair.
There Arto met Chini at a bar and he kept thinking about Imlie and Chini got pissed. Arto asked her to move on and Chini got shocked. Imlie tried to get busy in work to stop thinking about Arto and Chini. Later Arto slammed Chini for taking the credits away from Imlie who is the real Shayara.
In the upcoming episodes it will be seen Arto will ask Chini why she hates Imlie so much that she took the credits of her work. Chini will give excuse of her love for Arto that whatever she did is to get him only.
There Imlie will reach the location for her assignment and Arto will call her. Imlie won't answer that and Chini will try to distract him by proposing him. Imlie will find the illegal business of some goons making fake money.
She will run away from them and will get locked inside a room. She will feel suffocated and Arto will rush to save her hearing about her location. Ahead, Arto will rescue her and will beat up the goons. He will scold her for taking risk for just an assignment.
Imlie will collect evidence against the goons. There Chini will not reject Abhishek for back up as Arto didn't give her green signal. Later Arto will dance with Imlie and will propose her shockingly. He will say that he loves everything about her and Chini will get stunned hearing all of that.
What will Chini do now?
All these questions will be answered in the upcoming episodes.
To know what will happen next in your favourite show Imlie, stay tuned to this space.