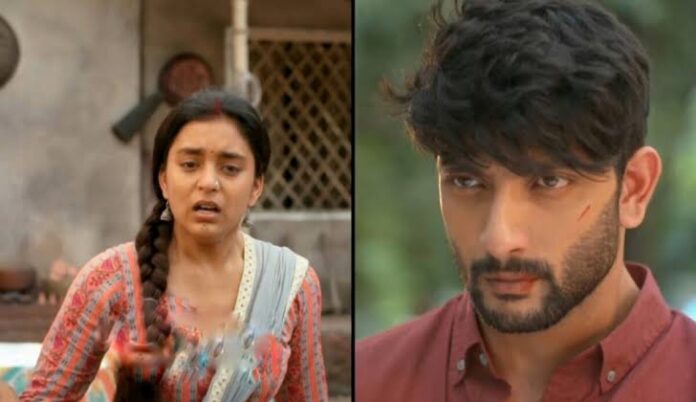 Imlie Spoilers, Upcoming Story, Latest Gossip , Future Story, Latest News and Upcoming Twist on SerialGossip.in
Star Plus popular show Imlie witnessed a five years leap. In current track Imlie and Aryan lost their baby and they blamed each other for the loss. Viewers will get to see a lovely bond between Imlie and Chini.
Aryan met Imlie in Pagdandiya and he told her to apologise for ruining the image of Bhaskar Times. Imlie refused to do so as she feels she is right. It will be exciting to watch what will happen next
Previously it was shown that the person named Rajat tried to burn Chini alive but Aryan and Imlie came to her rescue. They took her out of the place together.
Imlie and Aryan were not able to see each other due to smoke. But they got shocked to see each other later. They hugged each other in a dream sequence but then Imlie chose to ignore her feelings for him and said that she will talk to him later.
Aryan also chose not to care about her. He wondered who is Chini. Later Chini asked Imlie why she got emotional seeing Aryan and she also revealed how Aryan saved her from Girish and she also talked to Malini in video call. Imlie got worried hearing that and Chini asked about her father to Imlie.
In the upcoming episodes it will be seen that Imlie will tell Chini that she doens't need a father's name to achieve anything in life. Later Chini will say that Aryan has all the qualities of a father. Imlie will tell her not stay away from him.
Aryan will visit her house and Imlie will tell him to go back. He will ask her who is Chini's father and Meethi will lie that Chini is their relative's daughter. Imlie will not like the fact that Meethi told Aryan to have food with them.
Imlie will choose not to reveal Chini's identity to Aryan else he will start blaming her for Cheeku's death. Later Aryan will ask Imlie to sign an apology letter but Imlie will refuse to sign it saying she is not wrong in her place. She will burn the papers.
Rajat will click pictures of them and will send it to Malini. There Aryan will warn Imlie to not go against him but she will not be ready to accept her defeat. Later Aryan will call Police to get Imlie arrested.
Will Imlie apologise to Aryan?
Will Imlie get released from lock up?
All these questions will be answered in the upcoming episodes.
To know what will happen next in your favourite show Imlie, stay tuned to this space.