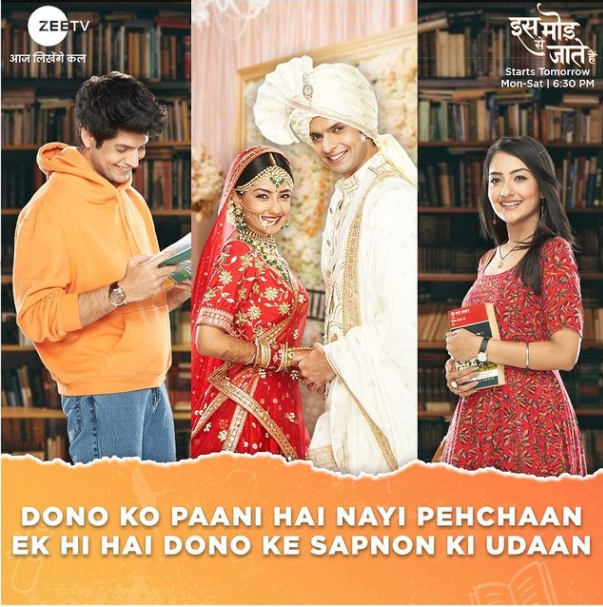 Iss Mod Se Jaate Hain 10th March 2022 Written Update on SerialGossip.in
The episode starts with Sanjay going to check the car when it's not starting and he thinks if Paragi is stuck in any problem. Narayan receives the call. He asks his men if the work is done. He agrees. Narayan signs Akshay that everything is fine. Sanjay tells them he set the wire. Batra arrives at Narayan factory with his team. Narayan says seems like you again received the wrong information as here we are performing pooja. Batra says God didn't listen to your prayers. Akshay asks what is he saying. Batra shuts him and tells Paragi will talk with them. Paragi comes out from the car with bandages on her leg and feet. Sanjay hugs her and he asks Rumi what happened to her. They ignore him. Batra says it's the work of Narayan and he tried to kill Paragi and Rumi and planned to create it as murder but glad I received the message of Paragi.
Sanjay holds the collar of Sanjay and confronts him. Akshay says she is lying. Vinod stops Sanjay. Sushma asks Paragi why she is creating the differences between the two families. Paragi says her accusations are not baseless and she asks them to check the secret room. Batra is about to go inside but Akshay stops him aiming the pistol. Chanda feels worried and prays for Paragi's safety. Her son tells her that Paragi is the one who has done gadbad with insurance money. Chanda tells she won't believe it until she talks with Paragi. Paragi warns Akshay to stop his wrongdoings but Akshay denies. Paragi throws a stone at Akshay's hand which makes him drop the pistol. Batra holds the pistol and aims a gun at Akshay. Ashi falls unconscious. Everyone feels worried for her.
Sushma says Ashi falls unconscious because of the shock and she blames Paragi for Ashi's pain. Sanjay supports Paragi. Vinod says Paragi risked her life to save Ashi's life. He asks Sushma to understand. Pramod says Akshay is perfect for Ashi as he loves her and it's not wrong to do illegal activities in business. Vinod questions Pramod how can he support the illegal activities? Ashi says this marriage is just a deal for Akshay and on police interview, his girlfriend matter will be out. Vinod says no need for any explanation and he apologises to Paragi from his family side. Pramod leaves. Vinod asks Sushma to notice that they got diamond like daughter in law. She leaves. Vinod sends Paragi to her room.
Vinod asks Sanjay to make Paragi feel that he is with her. Paragi on the call tells Batra that she will come to the office with files. Batra asks her to take a rest and praises her work. She thanks him for saving them believing the message of an unknown number. Batra tells her it's his responsibility and asks her to take a rest. Sanjay hears everything. He hugs her and apologises to Paragi and promises to never repeat his mistake and he requests her to tell him that she forgives him. Paragi tells him that she can't forgive him as he failed the trust she has in him. Sanjay says I didn't listen to my heart and he tells her sorry. Paragi says I trust you and I want you to trust me in the same way. Sanjay asks her for one chance. Paragi denies forgiving him.
Episode ends.
Click to read: