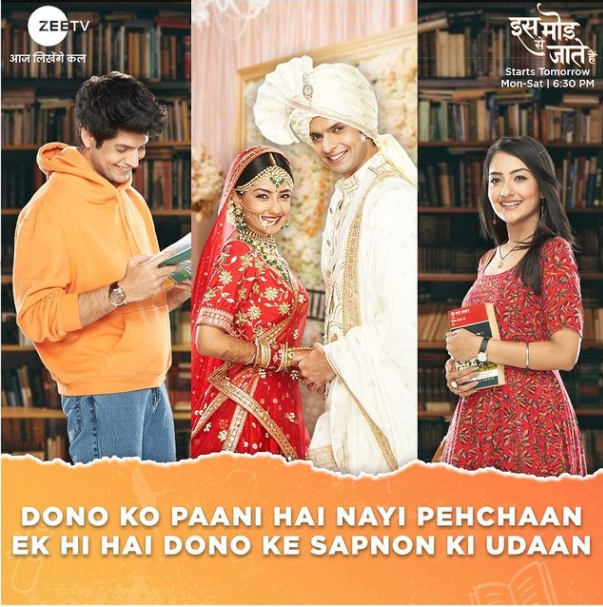 Iss Mod Se Jaate Hain 13th January 2022 Written Update on SerialGossip.in
Episode begins with Abhay tells Sushma that Sanjay is not picking the call. Nutan tells her family that they should return home because Sanjay won't come. Sushma says that Paragi believes her love and she believes her upbringing so he will come. Guests asks Chanda to not worry about all this because Paragi will earn so much money and the latter can find some other groom for Paragi. Atul tells Chanda that they should take Paragi their home. She tells him that everything happens for good and Sanjay won't return like Nutan said. Guests says that Paragi's this marriage also didn't happen.
Chanda tells Paragi that they should go home. She says that they will celebrate her success by cutting the cake. She asks her to forget Sanjay and become an IAS officer. Paragi tells her that she won't return to her home without marrying Sanjay. Chanda tells her that Sanjay won't come. Paragi says that he is different and he will come to marry her for sure. Chanda says that she will also see that Paragi's believe will win or not.
Sanjay comes there playing dhol. Paragi runs towards him and hugs him saying that she knows that he will come. He tells her that they should perform all the rituals now. Chanda thinks that she won't let Sanjay marry Paragi. Sushma tells Sanjay that she is proud of him.
Sanjay tells Paragi that he is happy for her. She tells him that her happiness is incomplete. She asks him that if he is fine. She tells him that he will clear UPSC exam next year for sure. He tells her that she cleared this year and kneels down and asks her that will the future IAS officer marry him. She holds his hand and he picks her.
Sushma welcomes Paragi and says that Paragi should be Sanjay's top priority from now on. Sanjay tells her that the latter is still an important person for him. Paragi says that parents are above God so she does not have any problem with it. Sanjay and Paragi exchanges garlands. Chanda thinks that she will stop this marriage. Priest calls Paragi's parents for 'kanyadhaan'. Chanda and her husband sits on the marriage mandap. She asks Paragi that did the latter thought that she won't do her 'kanyadhaan'. She recalls that how she explained her plan to her sons. She asks them to help her to execute the plan to stop this marriage.
Paragi's uncle thanks his wife. She tells him that she is a mother and she can do anything. Priest tells them that he could not find 'chunri'. Chanda tells him that she forget that in temple. He tells her that she can't leave the marriage mandap so Sushma can bring 'chunri' from temple. Sushma agrees to bring 'chunri'. Sanjay asks her to take Abhay with her. She tells him that she don't need bodyguard and let Abhay enjoy the marriage. Chanda signals at her sons. She thinks that because of Sushma this marriage won't happen now.
Episode ends.
Click to read