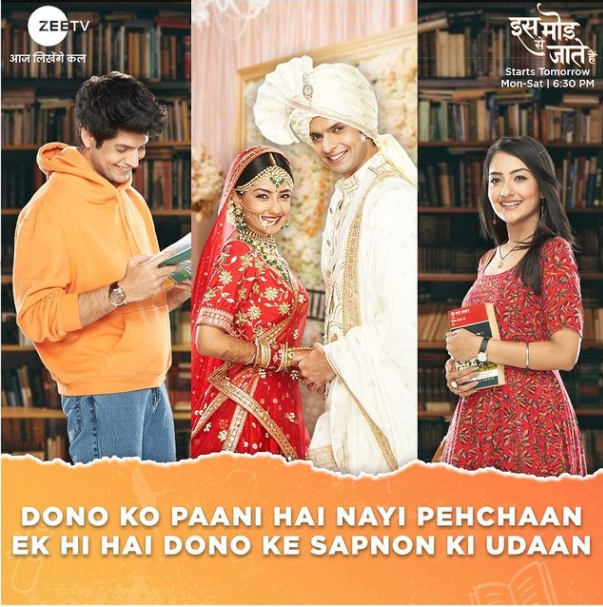 Iss Mod Se Jaate Hain 14th January 2022 Written Update on SerialGossip.in
Episode begins with Priest begins 'kanyadaan' ritual. Paragi gets emotional recalling that how her uncle motivated her always and helped her to achieve her dream. Chanda thinks that she knows that she is doing wrong but this is the right thing for her own children. And she has done so much for Paragi till now so now it's Paragi's turn to return the favor. Priest explains about 'kanyadaan' and says that from today Paragi belongs to Sanjay's family. Chanda asks Paragi to not cry. Sanjay tells Paragi that she is getting new family and she won't be distanced from her family for sure. Vinod says that Sushma should have returned.
On the other hand, Sushma reaches the temple. Atul, Kinkar and Aditi follows her. They waits for someone. Sushma tells herself that Paragi will become inspiration for Sanjay and he could tolerate this loss because Paragi is beside him. She enters the temple and asks Priest about 'chunri'. She asks God to give strength to Paragi.
Nutan notices Chanda's expression and asks Devi that why Chanda sitting like this. Hawan kund's fire goes out. Nutan says that it's inauspicious. Paragi says it's about their belief. Chanda thinks that now Sushma will stop this marriage. She wonders that what's happening in the temple because this marriage should stop for her.
Meanwhile, Sushma takes 'chunri' from Priest. She feels like someone following her and she leaves the temple. Priest asks Paragi and Sanjay to stand for pheres. Chanda tells him that Sanjay's mother has not returned yet. Vinod calls Sushma and learns that she left the temple. Sushma asks him to continue the rituals and she will reach and disconnects the call. She gets shocked seeing Gulshan's mother and few more ladies in front of her. Everyone wearing black saree and they surrounds Sushma. Sanjay and Paragi begins the pheres. Chanda receives message from Aditi and smriks.
Sushma asks those ladies that who are they. Gulshan's mother tells her that the latter is greedy. One of lady says that the latter received dowry from Paragi's family so they are here to punish her. Sushma says that her family is against dowry and they misunderstood. Gulshan's mother says that Sushma took 101 gold coins from Paragi's family. She snatches the plate from Sushma. Sushma is about to call Vinod but Gulshan's mother snatches the mobile from her.
She defends herself saying that she didn't take dowry and she gave money to Chanda to buy 101 gold coins. She pleads them to let her leave because it's her son's marriage day. Chanda tells Aditi that pheres are going to be completed and asks her to send Sushma as soon as possible. Gulshan's mother says that because of Chanda they got to know the truth which shocks Sushma.
Episode ends.
Precap – Sushma reaches the marriage venue and everyone gets shocked seeing Sushma's condition. Sanjay runs to her.
Click to read