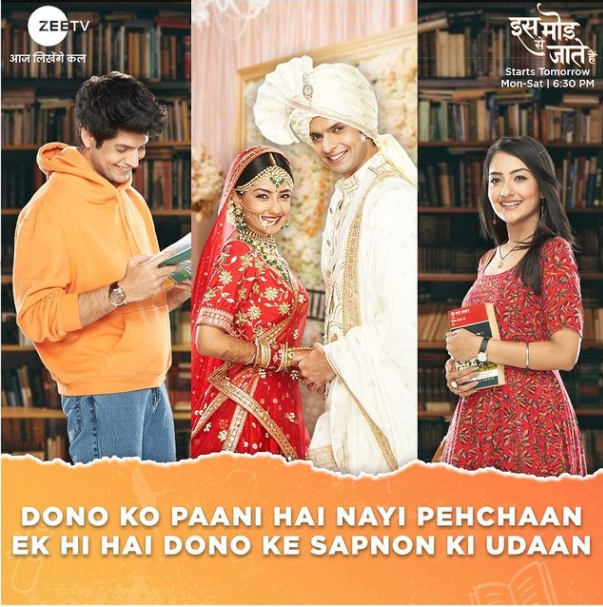 Iss Mod Se Jaate Hain 15th January 2022 Written Update on SerialGossip.in
Episode begins with Vinod waits for Sushma and wonders that why didn't return yet. On the other side, Gulshan's mother reveals that she got to know from Chanda that Sushma took dowry which shocks Sushma. She says that the latter threatened Chanda for dowry. Sushma says that, that's not true and asks them to come with her so she can prove that she didn't ask for any dowry but just 'shagun'. Gulshan's mother says that Sushma deserves humiliation and after seeing this no one will dare to ask for dowry. Sushma tries to leave from there but they didn't let her leave. Meanwhile, Chanda gets nervous. Paragi and Sanjay takes 'pheres'.
Sushma pleads them to believe her and if they don't believe her then she is ready to take them to marriage venue to prove her innocence. They moves towards her. Sushma gets afraid and asks them that what are they going to do. Gulshan's mother shows the plate to her which has black powder.
Paragi and Sanjay completes the 'pheres'. Chanda gets pissed off. Priest asks Sanjay to tie the nuptial chain. Sanjay ties nuptial chain on neck of Paragi. Then Sanjay fills Paragi's forehead with vermillion. Priest announces that from now on Paragi and Sanjay are husband and wife. He asks them to take elders blessings. Nutan says that even marriage got completed still Sushma didn't return. Everyone wonders that why Sushma didn't return yet. Sushma comes there. Everyone gets shocked seeing her condition.
Guests gossips that who blackened Sushma's face. Gulshan's mother and other ladies comes there. Chanda thinks that marriage happened already now no use of this drama. Gulshan's mother thinks that now this marriage will stop and how can she let Paragi marry Sanjay after rejecting her son. Sanjay runs to Sushma and asks her that who did this. Paragi asks to bring water. Rumi passes the water glass to Paragi.
Sanjay goes to Gulshan's mother and asks her that why she did this with Sushma. She tells him that Sushma deserves this for taking dowry. He says that, that's not possible. One of the lady says that they received complaint. Paragi says that how can they do this without any proper investigation. Gulshan's mother taunts Sushma. Vinod defends Sushma. Nutan asks about dowry. Gulshan's mother asks that how can they forget about 101 gold coins. Sanjay and Paragi gets confused hearing her.
Paragi's uncle asks Gulshan's mother to not create drama. Nutan learns that Gulshan's mother is Aditi's mother in law. She says that they are trapping her family. Pramod agrees with her and threatens to call the Police. Paragi asks Gulshan's mother to not blame Sushma. Aditi tells her that Sushma took dowry. Guests insults Sanjay's family. Paragi's family and Sanjay's family argues with each other. Paragi asks them to stop it. She asks those ladies that who gave complaint. Gulshan's mother says that she gave and she learnt about dowry from Aditi. Paragi asks Chanda about dowry. Her uncle says that dowry matter is true which shocks her.
Episode ends.
Precap – Paragi says that whatever with Sushma was wrong but they took dowry. Sanjay gets angry at her and takes Sushma from there.