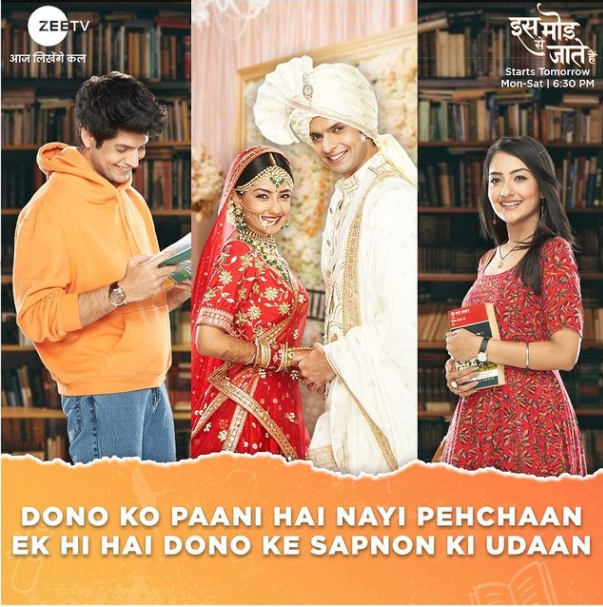 Iss Mod Se Jaate Hain 18th April 2022 Written Update on SerialGossip.in
Episode begins with Pramod tauntingly tells Vinod to stay happy with his daughter Paragi. Abhay refuses to leave with Pramod and decides to stay in his friend's house. Paragi pleads Vinod to stop everyone. She tells Sushma that if they stayed together then the misunderstandings can get clear or else it's not possible. She tells Vinod that the latter can't live without Sushma. Vinod says that this house belongs to everyone so everyone can stay and goes inside. Sanjay takes Sushma inside. Pramod tells himself that he will take revenge on Paragi for insulting him.
Later, Paragi informs Sanjay that her application got rejected which she applied to cancel her suspension. She leaves to meet Batra. Sanjay tells himself that Paragi suffered so much because of both families and now it's time to teach them a lesson. On the other hand, Atul and Shiva does all the household chores and gets tired. Kinkar tells them that he already warned them to not betray Chanda and Paragi but they didn't listen and now they are not less than maids in their own house. Shiva asks him to not lecture her. Chanda tells Shiva and Atul that they have to work if they wants food then.
In the office, Batra tells Paragi that if she wants to join her duty as soon as possible then her family members have to confess their wrongdoings. She tells him that she don't want to file a case against them. He asks her to wait until these rumours gets vanished. He tells her that she got trained to protect innocents but she is protecting culprits. He informs her that Minister will decide that when she will join her duty. She suggests her to meet Minister. Paragi informs Sanjay about Batra's suggestion. She tells him that she can't reveal the truth to Minister. He convinces her to tell the truth to Minister. He reminds her that she worked a lot to get this job. Meanwhile, Pramod gets frustrated with everything. He tells Baby that Varma is not picking the call. He gets worried about new university case.
Paragi and Sanjay reveals the truth to Minister. Sanjay pleads Minister to return the job to Paragi. Paragi tells Minister that she don't want to file a case against her family members. On the other hand, Chanda orders Atul to go to their sweet shop. She takes Shiva with her for shopping.
Paragi informs Vinod that she can rejoin her office. He gets happy and takes the sweet box from her. Pramod snatches the sweet box from him and throws it. He tells him that Paragi revealed the truth to Minister to return to her office. Sanjay tells him that the latter don't have any rights to accuse Paragi. He says that he convinced Paragi to reveal the truth to Minister. Vinod defends Paragi's actions.
Pramod says that investors back out from project because of Paragi. Sanjay tells Pramod to blame himself for all this. Pramod says that he earned more than anyone in this family which shocks everyone. Vinod reminds him that the latter got loans because of his credibility. He asks him to leave the house. Pramod talks about partition. He says that he won't leave his house which shocks everyone.
Episode ends.
Click to read