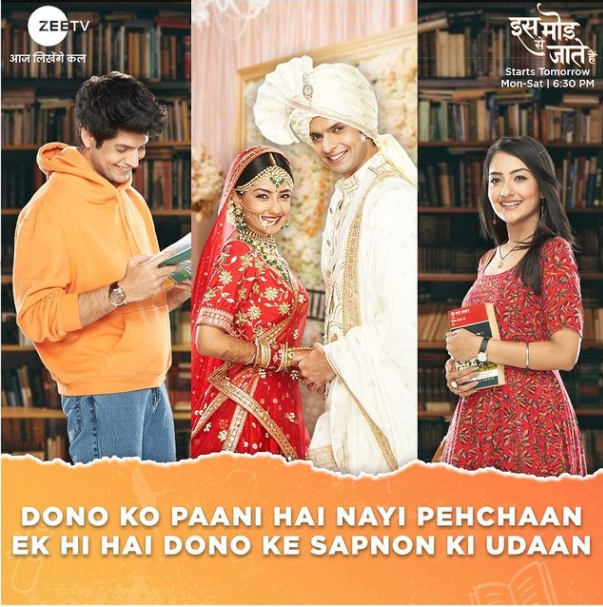 Iss Mod Se Jaate Hain 18th February 2022 Written Update on SerialGossip.in
Episode begins with puja gets over. Paragi and Sanjay takes elders blessings. Sushma gives prasad to Paragi and Sanjay. Sanjay thanks God saying that today she got his wife's support and his mother's blessing and nothing else matters for him. Sushma asks God to help Sanjay so he focus on his carrier like how Paragi focusing on her carrier. Sanjay is about to say something but Paragi stops him saying that Sushma is right and he should return to Bhopal. He asks her that how can he leave. She tells him that she is fine. He says that he will reach the airport after dropping Paragi in her institute. Others leaves for the airport.
Paragi asks Sanjay to not worry about her and focus on his work and also think about his dream. He says that he can't promise but he will try for sure. He requests her to take care of herself. She asks him to take care of himself. They leaves for her institute. In the Bhopal, Shiva steals Chanda's cupboard key. She opens the cupboard and takes Madan's insurance papers and she gives it to Atul.
Paragi thinks that everyone would have reached the airport. But she gets surprised seeing Sanjay. She asks him that what is he doing there when others are waiting for him in the airport. He tells her that she cares about everyone except him. He doesn't let her say anything and he dances with her and it turns out to be her dream. She tells herself that she became mad in his love and she is not understanding that how she is going to focus on her training without him. Batra tells Paragi that he is leaving which is good news for her and they will meet in the real world soon. She thinks that she is preparing herself for real world only and she don't want to see him again.
After 3 months, training period gets over. Paragi receives trophy for being the best student of her batch. She thinks that now she is returning to her family as an IAS officer. On the other hand, Sanjay gets excited to welcome Paragi. He hallucinates her while getting ready. He decorates the house and Aashi helps him. He brings the cake and put it on the table. Baby tells Sushma that Paragi divided their family.
Meanwhile, Paragi also hallucinates Sanjay while returning to Bhopal. She meets Sanjay and shows her trophy to him. She tells him that this win belongs to him. He hugs her. She tells him that she missed him so much. He tells her that he also missed her so much. He says that he just did 2 things in these 3 months, which is remembering her and waiting for her. She tells him that she took posting in Bhopal. She gives the credit of her success to him. He salutes her and calls her as IAS Paragi Pathak.
Episode ends.
Click to read