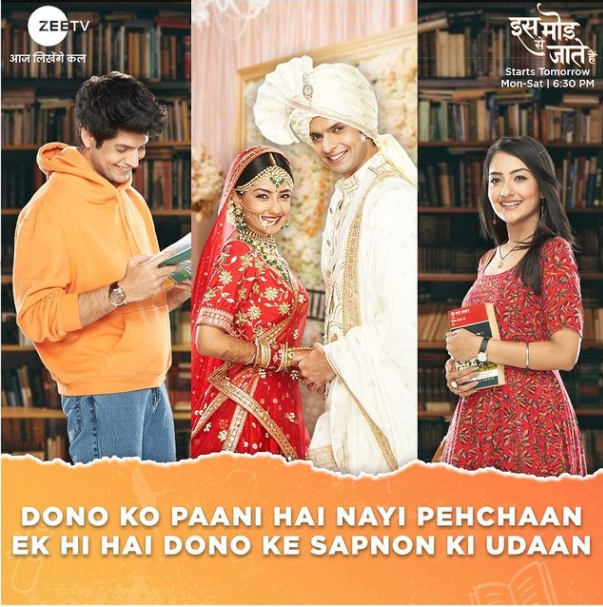 Iss Mod Se Jaate Hain 19th March 2022 Written Update on SerialGossip.in
Episode begins with Sushma asks Chanda to take Paragi away from the house which shocks everyone. Chanda says that she did sin and they can punish her for that. She adds that Paragi must have some reason behind her behaviour and if they ask her then she will tell them. Vinod pleads Sushma to come to sense. Sushma tells him that he is not able to see anyone except Paragi nowadays. Paragi asks Vinod to not try to convince Sushma. She tells Sushma that she will leave if that's what the latter wants then but she should learn the truth too. She informs them that what all happened yesterday.
She says that everyone witnessed the drama in her office and she took that decision to control Sanjay. She adds that Sanjay did wrong but she has to leave the house. She asks Sushma that why wife doesn't get equal rights like her husband and why only she gets blamed all the times. She says that she knows that how much she respect Sanjay but she didn't had any other choice yesterday. Sanjay tells her that he has no idea that why he visited her office and who made him drink bhang. He apologizes to her.
She tells him that his behaviour towards Batra may affect his career too not just her job. She hopes that Batra won't take any action against Sanjay. She tells him that she pleaded Batra to not file a case against him. And she is not understanding that how she is going to face Batra now. Vinod tells her that it's serious matter and they has to deal it carefully. And Paragi need not to leave the house. He apologizes to Chanda for troubling her.
Sanjay tells Paragi that he really don't remember that what he did yesterday. Paragi tells him that his apology can't change anything. She tells Chanda that she will drop her. Vinod and Sanjay goes inside. Sushma says that Paragi is not wrong. She gets worried that Batra may take action against Sanjay. Pramod tells him that he will handle it. Baby says that Paragi's attitude is wrong and she will use this situation in her favor.
In the office, Batra asks Paragi to submit the report about educational institutions. Paragi gets shocked seeing Sanjay coaching centre's file. She says that their coaching centre also involved in financial fraud. She adds that Pramod must be behind this financial fraud but Sanjay will get dragged too.
On the other hand, Sanjay asks himself that how can he suspect Paragi and Batra's relationship. Ashi scolds him for suspecting Paragi. She says that Paragi struggled a lot to win everyone's heart in this house and she tried that for Sanjay but he end up hurting her. She asks him that how he would have felt if Paragi suspect him then and leaves from there. Sanjay remembers dhol people and tells Abhay that they instigated him.
Paragi tells Batra that she want to withdraw herself from this case. He tells her that she is the perfect candidate for this case and she proved herself in Narayan's case already. He asks her to not share the details about this case to her family. She promises to manage the case well and leaves from there. Later, Sanjay sees holi day video and he identifies Shiva's voice. He asks Abhay to not tell anyone about it.
Episode ends.
Click to read