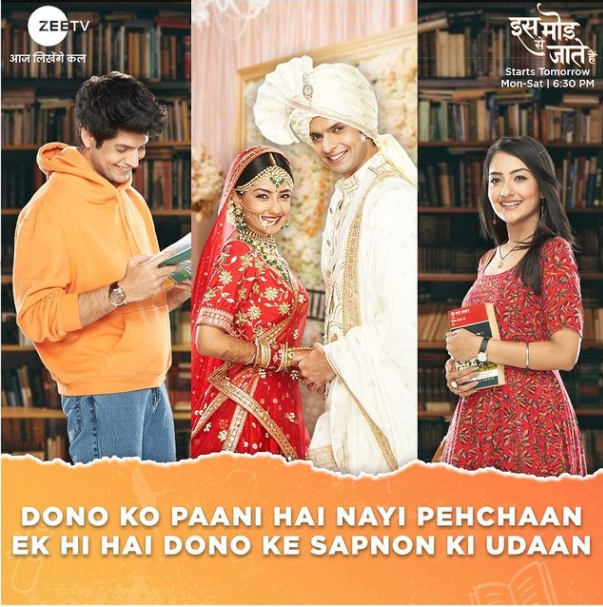 Iss Mod Se Jaate Hain 20th April 2022 Written Update on TellyExpress.com
Episode begins with Sanjay tells Pramod that Vinod is fine now but he may get attack in the future if he stressed so much then. Paragi tells Pramod and Baby that she lost her parents and then Madan so she knows the value of family. She pleads them not let their family break. She tells Pramod that she got accommodation from government so she will shift there with Sanjay, Vinod and Sushma. And Pramod need not to divide the house and business but keep everything.
Sanjay tells Pramod that they will visit the house during functions to celebrate together. Pramod asks him that if Vinod agreed for this. Sanjay tells him that he will convince Vinod and it's best decision for Vinod's health and everything. Sushma overhears their conversation. Paragi and Sanjay informs their decision to Vinod. Vinod thanks them. They decides to leave the house tomorrow.
Next day, Sushma asks Pramod to erase the line once they leaves from there. She gives house key to Baby. And she apologizes to her for hurting her. Vinod asks Pramod to take care of himself and also the business. He says that he knows that Pramod can handle everything alone still if the latter needed any help then he can call him. Baby asks Abhay to not leave. Abhay tells her that he don't want to become like Pramod. Everyone leaves the house except Pramod and Baby.
Pramod cries recalling the moments he spent with everyone. He stops Vinod and apologizes to him for becoming blind because of his greed. He says that he deserves punishment and he won't repeat his mistake again. Baby tells Sushma that she can't handle everything alone and asks her to stop Vinod. Vinod hugs Pramod and Sushma hugs baby. Everyone goes inside except Sanjay and Paragi. Vinod asks them to come inside.
Paragi tells him that she don't want to become the reason for the problem again so it's better she leave the house. Sanjay says that he can't let Paragi leave alone so he is going with her. Sushma says that Paragi can't go anywhere. She tells her that she misunderstood her and hugs her saying that the latter saved this family. Pramod thanks Paragi for making him realise his mistake. He apologizes to her and asks her to stay with them. Paragi gets emotional. Sanjay hugs Pramod.
Next day, Sushma serves Paragi and asks her to invite Batra for dinner. Pramod tells Vinod that he paid fine for cheating on the accounts and now the accounts are clear. He says that they got new investor for their university project. Sanjay says that he decided to prepare for his IAS dream. So he is going to join their coaching centre. Paragi leaves for office. Sanjay leaves for coaching centre. Sushma says that she is proud of Paragi and Sanjay.
Sanjay tells Paragi that their relationship won't break no matter what. She promises to handle both her personal and professional life. She is about to fall but he holds her. She reminds him that this is how they met. They start their life afresh.
The End.
Click to read