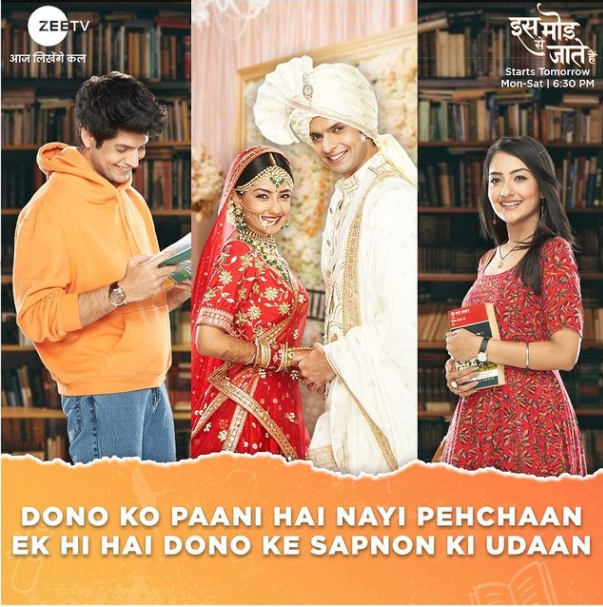 Iss Mod Se Jaate Hain 22nd February 2022 Written Update on SerialGossip.in
Episode begins with Sanjay decorates the room to surprise Paragi. Vinod gives few more things to decorate. He gets shy hearing him. Vinod tells him that it's Valentine's day so no one should feel shy to express their love. Sanjay hugs his father and says that the latter is world's coolest father. Vinod says that Sanjay is coolest for the way he supports his wife and leaves from there. Sanjay gets excited to celebrate Valentine's day with Paragi.
On the other hand, Paragi sits on her chair and gets emotional. She takes the pen from her bag and she puts it on pen stand. She video calls Sanjay and shows her cabin to him saying that she is sitting on her IAS chair. She shows her name board, pen stand and everything to him. He tells her that she motivated him by showing all this. She thanks him and says that next year he will be sitting on his IAS chair.
He tells her that she is looking good on that chair and asks her to focus on her work. She tells him that it's his mistake that he is so cute. He asks her about her meeting. She tells him that she will reach home after finishing the meeting and disconnects the call. She sees Madan's picture and says that she achieved her dream with his blessings.
Meanwhile, Sushma finds new saree in her room. Vinod asks her that if she liked it. She tells him that she thought he won't gift her anything this year. She thanks him for the gift and wishes happy Valentine's day to him. He also wishes happy Valentine's day to her. He says that their differences can't separate them and he still loves her so much and leaves the room. She says that her family members are really good but something is missing and wonders that what she has to do to bring everyone together.
Paragi asks her PA Arun about her meeting. He tells her District Magistrate(DM) has not come yet so seems like he is busy with some other thing. He asks her to leave and he will inform her once DM returns. She says that it would have been good if she got chance to meet DM today then. She leaves her cabin.
Chanda notices Paragi's message and she gets emotional seeing the picture Paragi has been sent her. She tells Madan that his daughter became an IAS officer and got car with blue beacon. She says that she will ride on the car instead of him. Shiva and Kinkar decides to take advantage of Paragi being an IAS officer.
Paragi tells Sanjay that she is coming to celebrate Valentine's day with him and disconnects the call. She is about to get in her car but stops hearing Batra's voice. He tells her that he noticed her personal issues during the training too. He warns her to not let her personal issues affect her work. She learns that she is going to work under him from now on. She apologizes to him and goes inside to attend the meeting. And she could not message Sanjay. Sanjay reaches the bakery to receive the cake. Paragi notices Sanjay's call but ignores it.
Episode ends.
Click to read