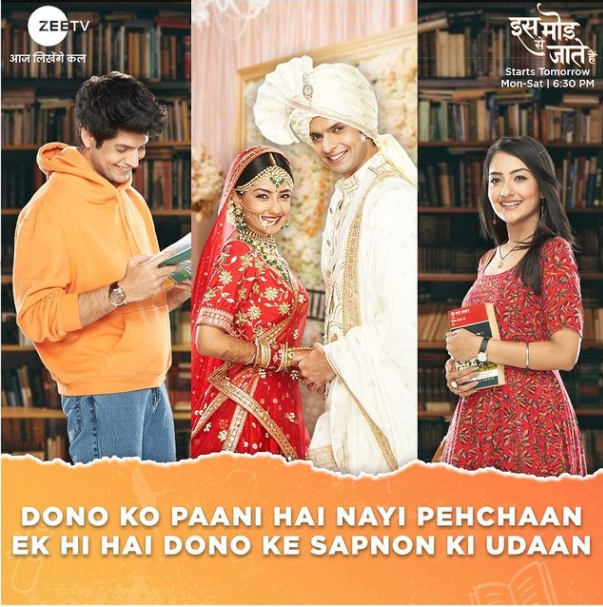 Iss Mod Se Jaate Hain 23rd February 2022 Written Update on SerialGossip.in
Episode begins with Sushma tells Baby that groom's family didn't even accept the horoscope after learning about Aashi's leg issue. Baby consoles her. Aashi overhears their conversation. Sushma and Baby gets shocked seeing Aashi there. On the other hand, Batra tells Paragi that child labour is a curse for poor children. He says that they gets many complaints but could not catch anyone. She tells him that she searched a lot about this issue. She says that raid won't help them because culprits learns about raid using contacts and they gets alert. She tells him that they should use owners greed against them.
He says that she is not the first person to come with this suggestion. She tells him that they never implemented this plan so they should try it. He gives her first assignment to her and asks her to inspect few factories tomorrow. He tells her to not tell about any new scheme to take advantage of the factory owners greed. Because her work is investigation and observation and she should submit the report to him. She asks him that if they can move on forgetting what happened in the training. He tells her that he listened her and she can leave.
Aashi tells Sushma that the latter's daughter can't walk properly so groom's family will show sympathy and they may expect a huge dowry that's it. Baby asks her to calm down and Sushma had no idea about that family. She says that she will give groom's family details to Sanjay so he can teach them a lesson. Aashi asks her to not involve Sanjay in this matter and let him celebrate Valentine's day with Paragi. She asks Sushma to not bring any marriage proposal. Because she want to do something in her life and goes inside. Baby tells Sushma that even Sanjay and Vinod don't care about Aashi's marriage. Meanwhile, Vinod tells himself that Aashi's marriage is his responsibility and he rejects many marriage proposals.
After some time, Paragi returns home late from office. Sushma reminds Paragi of her warning. She tells her that the latter getting love from Sanjay but in return Sanjay keep waiting for her instead of getting love. Paragi enters her room and finds Sanjay sleeping. She notices the cake and decorations. She wakes him up and apologizes to him. He asks her to not apologize and not give any explanation because he is not angry. She informs him that Batra is her new DM which shocks him. He asks her to just focus on work but now they has to celebrate Valentine's day.
Vinod asks Sushma that why she didn't inform him about marriage proposal. She taunts him saying that he is busy with his new daughter Paragi. He tells her that nowadays she brings Paragi in all the matter. Pramod asks them to not fight.
Paragi and Sanjay cut the cake and feeds each other. He shows his UPSC exam form to her. She thanks him and hugs him. She says that she didn't bring any gift for him. He dances with her saying that this is her gift. Abhay interrupts their romance again. He informs them about Sushma and Vinod's fight.
Episode ends.
Click to read