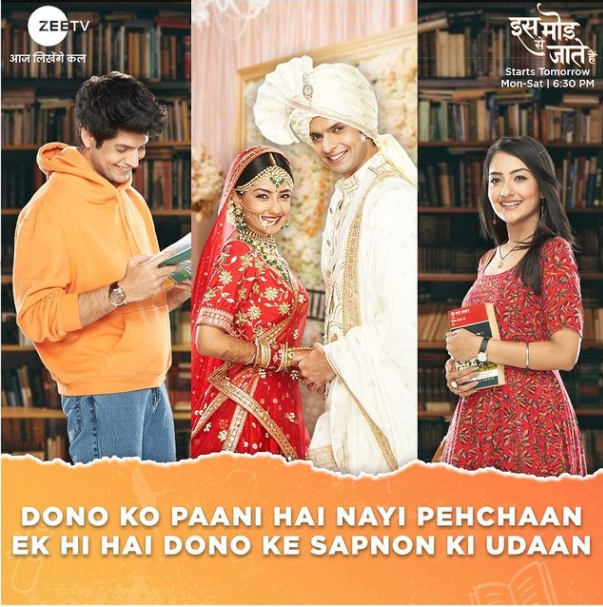 Iss Mod Se Jaate Hain 23rd March 2022 Written Update on SerialGossip.in
Episode begins with Baby asks Pramod that what is he thinking about. He tells her that he is wondering that he did right or wrong by making Sanjay the owner of all his illegal business. He says to her that he is feeling gulity. She tells him that Paragi would have send him to jail if he didn't tricked Sanjay then. He asks her that will Sanjay get advantage of being Paragi's husband during investigation. He gets worried thinking that could he help Sanjay in any way. She tells him that nothing will happen to Sanjay.
After some time, Pramod tells Sanjay that they has to leave for Paragi's office. Sanjay receives the call and gets confused. In the office, Paragi prepares herself to question Pramod. But she gets confused seeing Sanjay. He asks her that why she is staring him like this when his office staff only told him to come alone for the meeting.
On the other hand, Sushma asks Pramod and Vinod that why Sanjay asked to attend the meeting alone. She wonders that what's happening here and what exactly Paragi wants. Pramod tells her that Sanjay is new to business and he is soft target for Paragi. Vinod tells him that Sanjay is not kid and Paragi is not Sanjay's enemy to do all this. Baby tells him that Batra is Sanjay's enemy. Sushma gets worried for Sanjay and requests Vinod to do something. He assures her that they did nothing wrong so nothing will happen to Sanjay. She tells him that she feels like something bad going to happen.
Paragi tells Sanjay that there must be some confusion. Batra comes there. Sushma tells Vinod that Batra got a chance to get revenge for his humiliation. She is about to leave for office. But Vinod stops her. She tells him that she has to confirm that Sanjay is safe and leaves from there.
Batra asks Sanjay to wait outside because he has to discuss about something to Paragi. Paragi also asks Sanjay to wait outside. Sanjay leaves Paragi's cabin. Vinod follows Sushma and tells her that they will follow the procedure and they won't arrest Sanjay. Sushma tells him that today Paragi will insult Sanjay again. Sanjay thinks that he thought to apologize to Batra but his attitude makes him angry.
Baby tells Sushma that Sanjay waiting outside Paragi's cabin. Sushma says that she can't wait anymore and leaves for Paragi's office. Vinod yells at Pramod and Baby for provoking Sushma. Abhay asks Ashi about the current situation. Ashi tells him that that Sanjay and Paragi has to face this situation and strengthen their relationship.
Sanjay waits for 3 hours. He asks water from peon. Peon taunts Sanjay. Sushma hears that. Paragi and Batra comes there. Sushma says that Paragi made peon insult Sanjay. Batra tells Paragi that it's not a circus to create drama here. He warns to take action against them. Paragi tells him that she will solve everything in five minutes. He asks her to start the enquiry and make sure that Sushma leaves the office right now. He tells Paragi to decide that she want to fulfill wife duty or an IAS officer's duty.
Episode ends.
Click to read