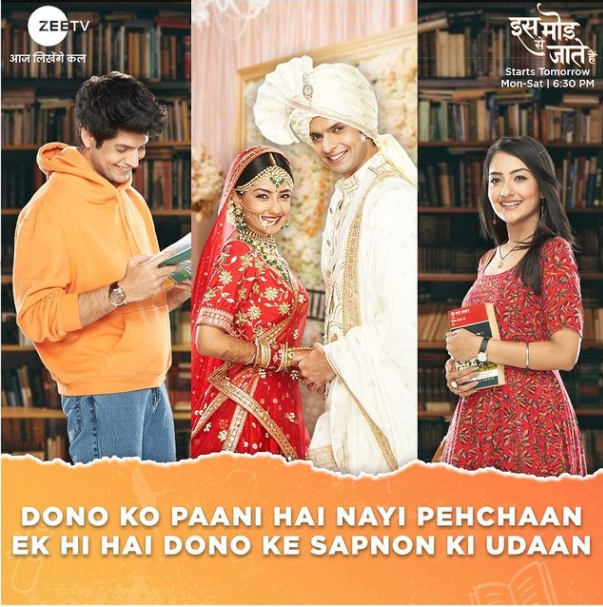 Iss Mod Se Jaate Hain 26th February 2022 Written Update on SerialGossip.in
Episode begins with Prem offers bribe to Paragi. He asks her to fix Sanjay and Ashi's marriage by using her power of being an IAS officer. Everyone gets surprised hearing him. Ashi goes inside. He says that he revealed his wish and the final decision depends on Ashi and others opinion. He gives jewels to Paragi saying that it's his blessings not bribe. She goes inside to meet Ashi. Akshay tells Sanjay that he liked Ashi since beginning but didn't tell anyone to not ruin the friendship of two families. Sanjay scolds him for informing late and hugs him. Sushma and Vinod gets happy and gives their nod for the marriage proposal. Both families hugs each other.
In the kitchen, Paragi asks Ashi's opinion about the marriage proposal. She says that she can clearly see Ashi's feelings still she want to hear it from her. Ashi informs her that she liked Akshay since beginning. She says that it's hard to believe that this is all happening and one side she is happy but other side she is scared too. Paragi tells her that she can understand her.
She asks her to listen her heart and take decision. Ashi says that she really likes Akshay. Paragi tells her that the latter deserves happiness. She promises to her that she won't let anything wrong happen to her. Sanjay and Akshay comes there. Sanjay feeds sweet to Paragi. Akshay feeds sweet to Ashi. Sanjay asks them to talk how much they wants and leaves the kitchen with Paragi.
Later, Paragi meets Aryan in front of the clothing company. He asks her that if she talked to the owner of the company. She tells him that she don't know that who is the owner. Prem and Akshay comes there and talks to Paragi. Prem asks Akshay to help Paragi in inspection. Aryan stops Paragi from entering the company and he sends Arun and others for inspection. He takes Paragi aside to talk to her.
Pramod tells Sanjay that their important investor decided to back off from the project so how are they going to complete the project. Sanjay tells him that they will get new investors for sure. Sushma gets worried that she could not buy lucky pendant. Baby and Pramod tells her that they will help her. Sanjay asks Sushma to not worry. She tells him that she wants that pendant today itself.
Paragi explains the situation to Aryan. He asks her to perform her duty without showing biasedness. He warns her that her one mistake can ruin her career. Prem calls Vinod and talks about Ashi and Akshay's roka. Sanjay searches that where can he buy the pendant.
Arun informs Aryan that everything is fine in the company. Akshay murmurs to Prem that he shifted the child labours already. Paragi comes out of the company while talking to Sanjay. Aryan scolds her for talking to her husband during her duty time. Prem and Akshay underestimates Paragi.
Paragi takes Aryan aside and tells him that she didn't wanted Prem and Akshay to know that she got clue against them. She shows the lollipop sticks to him saying that she found it in the dustbin. He tells her that they wants solid proof to prove them guilty and leaves from there. Prem asks Paragi to focus on Ashi and Akshay's marriage preparations. She thinks that she can't ignore if Akshay and Prem are wrong then.
Episode ends.
Click to read