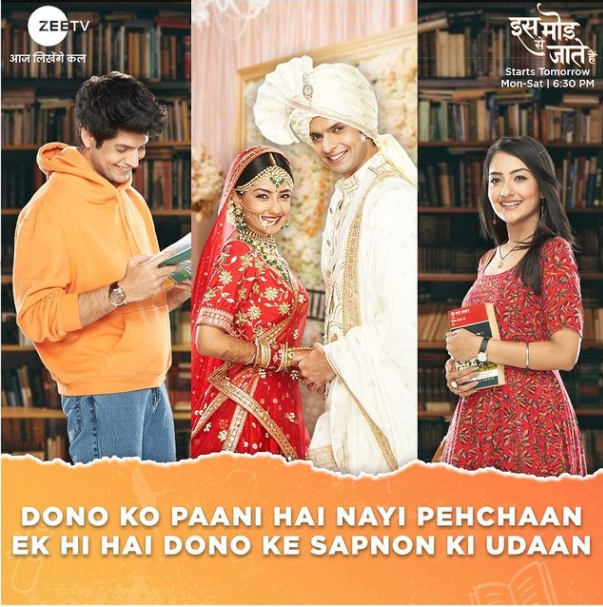 Iss Mod Se Jaate Hain 26th March 2022 Written Update on SerialGossip.in
Episode begins with Batra watch the news and says that Paragi's family is really dramabaaz. He tells Mishra to help Paragi to solve the issue because it's about their office reputation too. On the other hand, media reporters questions Paragi. Sushma murmurs to Baby that now Paragi will understand that how she felt when everyone insulted Sanjay. Paragi tells reporters that investigation will happen and she won't interfere in others duties. Mishra comes there and tells Paragi that Batra sent him to solve the issue. Sushma says that Paragi acting like saint in front of reporters but in reality she is saving her family using her boss Batra's power. Paragi tells her that the latter misunderstood. And she didn't call Mishra for help.
Pramod says to Paragi that she never leave a chance to insult Sanjay but she protects her family very well. Sushma says to Paragi that the latter can't save Sanjay's culprits using her power. She tells Police inspector to take Atul and Shiva from there. Paragi tells Chanda that she will sort out this matter legally. Sanjay comes there and tells Police inspector that he want to withdraw the case. Sushma opposes his decision and says that Atul and Shiva deserves to be punished.
Pramod tells Sanjay to stay out of this matter and let Police continue the investigation. Sanjay says that he won't change his decision. Sushma tells him that she gave complaint so she won't withdraw the case. He tells her that he will give statement that no one tried to harm him then Police will dismiss the case. Baby tells him that he is doing wrong by going against Sushma. And Paragi must be happy seeing this.
Chanda thanks Sanjay. She tells Shiva and Atul to apologize to Sanjay. Shiva and Atul apologizes to Sanjay. Sanjay leaves with Police inspector to withdraw the case. Mishra handles the media reporters. Chanda apologize to Sushma on behalf of Shiva and Atul. Sushma says to her that Atul and Shiva learnt all this from the latter only. She adds that Chanda and Paragi insulted Pathaks always. She says that she don't need Chanda's apology and leaves from there. Paragi thinks that the distance between both families keep increasing. Sanjay informs Paragi that the case has been dismissed. Paragi warns Atul and Shiva. She asks Chanda to not worry about anything and take care of her health and leaves from there.
Vinod says to Sushma that she should have informed him or Sanjay before taking this huge decision. Sushma tells him that Paragi may even send Sanjay to jail and leaves the room. Pramod asks Paragi to close the case for Sanjay's sake. She tells him that if he did nothing wrong then he should not get nervous. She says that she thinks that Pramod is behind this fraud.
Paragi tells Sanjay that he hide about Atul and Shiva's actions from her to keep her away from stress. He notices the halwa she made for him. He tells her that he will eat it later. She thinks that she won't let Sanjay suffer for Pramod's mistakes. They wonders that why distance keep increasing between them even though they trust and love each other so much. She thinks that she just wants his support. He thinks that she may get angry at him but he will support her always.
Episode ends.
Click to read