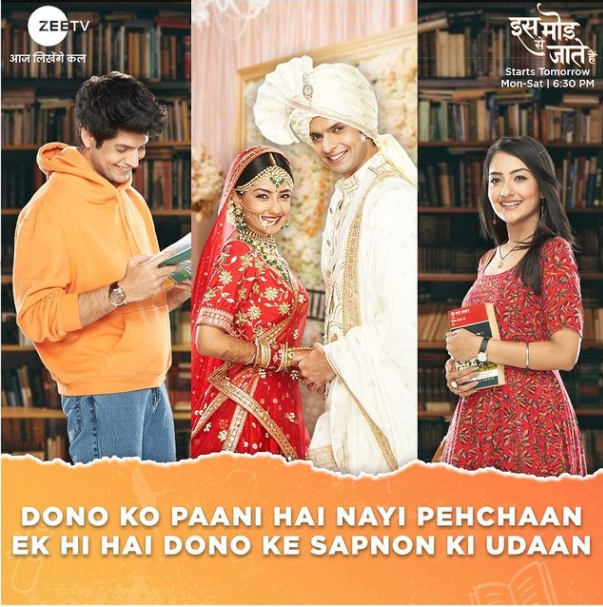 Iss Mod Se Jaate Hain 28th February 2022 Written Update on SerialGossip.in
Episode begins with Sanjay brings the pendant which Sushma wanted to buy. She smiles seeing the pendant and tells him that she was searching this pendant only. Vinod asks Sanjay that how he found it when they could not find it anywhere in Bhopal. Sanjay tells him that Paragi helped him to find this pendant. Paragi enters the house. Sushma thanks Paragi wholeheartedly and. Paragi tells Sanjay that she is glad that she could help Sushma atleast this way. Sushma does puja to the pendant. Then she calls Ashi and gives the pendant to her.
Paragi thinks about Akshay company's inspection. Sanjay clicks selfie with his family. He asks Paragi to join them but she refuses. She thinks that first time Sushma talked sweetly with her after marriage and today her family is happy so how can she tell them that she is inspecting Akshay's company. She tells herself that she can't ruin their happiness by revealing about it.
Sushma picks Priest's call and learns that tomorrow is auspicious day for Ashi and Akshay's roka and she informs about it to her family. Paragi thinks that everything happening so sudden and something is fishy for sure. Sushma asks Vinod to call Prem and inform the roka date. Paragi asks that why they are in hurry. Pramod tauntingly says that Paragi put brake. Baby asks Paragi that what is the latter's problem. She says that Paragi need not to do any work in Ashi's marriage but just reach the marriage venue on time. Paragi tells her that she didn't meant that. Sanjay says that roka going to happen tomorrow not marriage and Paragi worries that they won't get enough time to prepare. Ashi asks Paragi to not worry about it. Baby murmurs to Sushma that they can't trust Paragi.
On the other hand, Chanda tells insurance agent that her all the children should get equal share. She asks him about the old insurance agent. He tells her that, that agent's mother met with an accident so he left for his hometown. She asks him that when she will get the insurance money. He tells her that it will take few days to complete the process. She goes inside. He smirks looking at Shiva and Kinkar. She says that they postponed this matter for few days.
Paragi calls Aryan and informs him about Akshay and Ashi's roka. She tells him that she won't mix her personal and professional life. She thinks that he is going to yell at her. But he congratulates her and disconnects the call. Meanwhile, Sushma shows the jewels and clothes to Ashi. She says that she is glad that Ashi is happy with this marriage. Ashi tells her that she is afraid too. Sushma thinks that she won't let anyone play with Ashi's happiness.
Sanjay plays chess with Paragi. She asks him about Akshay's family. He tells her that they are family friends. She tells him about her inspection. He says that these kind of enquiries are common. She asks him that what if she found anything illegal. He remains silent. Next day, everyone decorates the house for roka ceremony. Sushma looks at Paragi and she warns servants to not make any mistake today.
Episode ends.
Click to read