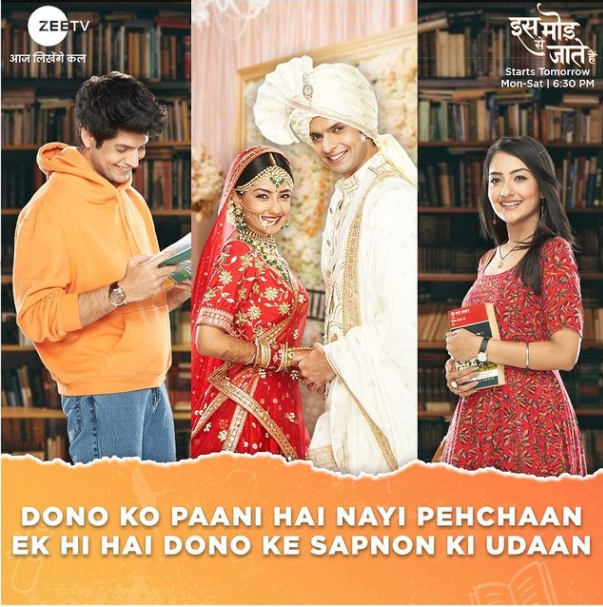 Iss Mod Se Jaate Hain 4th January 2022 Written Update on SerialGossip.in
Episode begins with Bua Nutan tells Sanjay that she is proud of him and her heart believed that he won't go against her decision. He tells her that he will meet them tomorrow. Sushma asks him that if he is ready to marry the girl whom Nutan choosed for him. He ignores her and promises to Nutan that he will meet that family for sure. Nutan tells Vinod that Sanjay's marriage won't happen with Paragi.
Paragi calls Sanjay and asks him that if he is fine. He tells her that everything is fine. She informs him about the reminder of online lecture. He tells her that he will talk to her after reaching home and disconnects the call. She feels like he is in some problem and she expects him to share it with her. He thinks that he should inform Paragi about this new marriage proposal. Rumi comes there and asks him that if he is fine. She asks him to never leave Paragi. He tells her that he won't leave Paragi.
Later, Vinod and Sushma asks Sanjay that how can he agree to meet some other girl and what about Paragi. He tells them that he decided to do something but he can't explain about it to them. Vinod asks Sushma to trust Sanjay. Meanwhile, Nutan tells Pramod that if Paragi was right choice for Sanjay then she would not have rejected her. She says that Paragi's dream is high and ambitious girls won't be able to handle the family. And Sanjay's wife should not be more smart than Sanjay.
Next day, Nutan shows the gift to her family. She asks them that if Sanjay is ready. Sushma goes to Sanjay's room. Nutan tells Pramod to buy milk from Paragi's uncle shop. Paragi feels like Sanjay is avoiding her. Rumi comes there to attend online lecture with Paragi. She tells her that she also wants someone like Sanjay. She asks her that did the latter thanked Sanjay for solving Gulshan's issue. Paragi sends thank you message to Sanjay. She also promises to support him and his family. Sanjay reads the message. Abhay and Ashi comes there and asks Sanjay to share his plan with Paragi. Sanjay tells them that he want to focus on online lecture now.
On the other hand, Chanda learns that marriage proposal came for Sanjay. She curses Sanjay's family. Shiva and Rumi asks her that what happened. Chanda reveals that Nutan selected a girl for Sanjay so Paragi's marriage won't happen with him which shocks everyone. Paragi tells them that something would have happened and she trust Sanjay.
Meanwhile, Nutan introduces Garima's family to her family. Sanjay comes there. Nutan tells him to show the house to Garima. Sushma murmurs to Vinod that Sanjay looks so comfortable but that makes her uncomfortable. He tells her that Sanjay will handle everything.
Garima tells Sanjay that he is perfect husband material that's why she agreed to meet him. He tells her that he loves someone else and he learnt that what is love from his lover. He pleads her to reject him because he don't want to disrespect Nutan by rejecting her. She thinks that she can't reject this perfect guy.
Episode ends.
Click to read