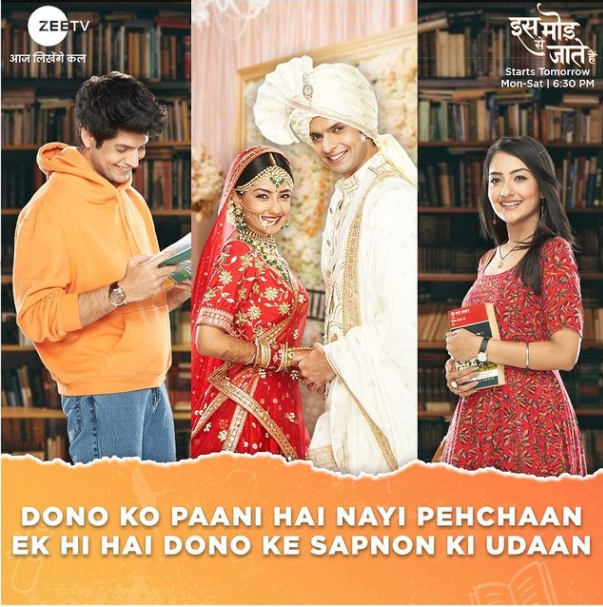 Iss Mod Se Jaate Hain 4th March 2022 Written Update on SerialGossip.in
The episode starts with Narayan offering a gold watch as a bribe to Batra but he denies taking it and warns to file a case on him for offering a bribe. Narayan tells nice to know someone is working with honesty here and yesterday Paragi looked good in the diamond set and she showed her photo to him. Batra asks him to leave. Paragi thinks about how to search all parlours. Sanjay misses Paragi and calls her to know what's she doing but she doesn't attend his call because of Batra. Batra tells Paragi that she is out of the Narayan case. Paragi questions why. Batra accuses Paragi of taking a bribe from Prem Narayan. Paragi tells him it's a gift from a family friend but Batra didn't listen. Paragi thinks how he gets her photo then he sees Narayan and realises that they are trying to trap her in the office and house.
Narayan reaches Sanjay's house and he asks about Paragi which downs the mood of family members. Akshay tells to everyone that he will give all happiness to Ashi which she deserves. Sanjay tells wish Paragi hears it so she can know he is good. Vinod tells she will know in her inquiry. Sanjay tells he is missing Paragi. Paragi searches for Akshay's lover, Sheetal. Ashi and Akshay's engagement is about to start but Abhay takes the rings and asks them to play game. Pramod and Sanjay ask him to stop it but he insists on them. Akshay agrees. Abhay recalls he is delaying the engagement for Paragi and he waits for her. Paragi finds the parlour but Sheetal leaves locking the parlour before Paragi meets her. Paragi enquires about Sheetal showing her photo. That man tells her the way.
Akshay fails to throw a ring on the ring. Narayan asks them to start the engagement. So everyone asks Abhay to stop the game. Ashi and Akshay's engagement gets started. Sanjay misses Paragi. Paragi finds Sheetal near the Panipuri stall and asks if she knows about Akshay. Sheetal tells he is her boyfriend. Paragi tells her Akshay is cheating her by engaging with Ashi and she asks her to come with her to save 3 lives. Paragi receives her Mom's call and she tells her that she will talk to her later. Chanda thinks to tell Paragi about the insurance fraud. Her son asks what happened to her and why she looks tensed. Her daughter in law asks her to tell what hat but Chanda stays silent. Akshay and Ashi exchange their rings.
Everyone claps for them. Sushma tells them she will perform Nazar utariya ritual but Paragi stops her and performs the ritual to Ashi and tells Akshay is bad. Sushama says I asked you to keep away from Ashi functions but why do you come here and why can't you see her happiness. Sanjay asks what is she doing. Paragi request him to give one minute. Sanjay gives her then Paragi calls Sheetal and tells everyone that she is girlfriend of Akshay and he is cheating our Ashi. Everyone gets shocked.
Episode ends.
Click to read