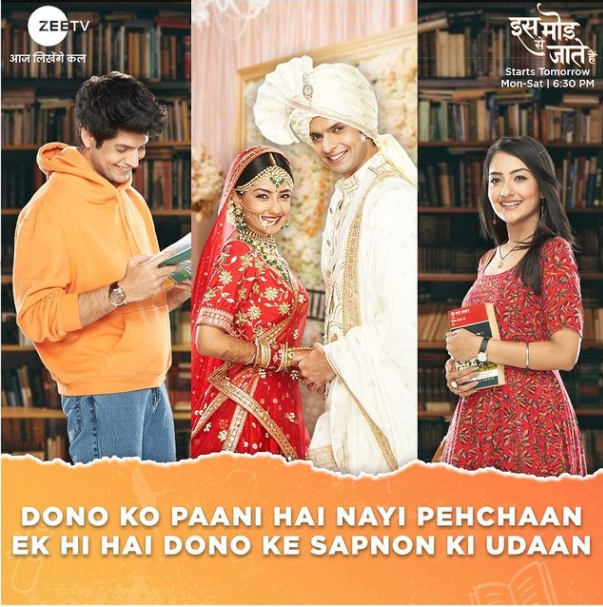 Iss Mod Se Jaate Hain 5th March 2022 Written Update on SerialGossip.in
The episode starts with Paragi telling everyone that Sheetal is girl friend of Akshay and he is betraying our Ashi. Sanjay says I trust Paragi but as a friend, I'm giving you change so tell me. Akshay asks why you're doubting our friendship? You have to ask Bhabhi why she is doing this drama as this girl is not my girlfriend. Chandra says Paragi gave me all the papers but doesn't know where the mistake happened. Shiva tells Paragi might do this fraud. Chanda says, Shiva. Her son says Paragi is not even attending your calls. Chanda says Paragi might be busy with work and I can't decide anything until I talk to Paragi. Akshay tells Ashi that he just loved her. Paragi asks Sheetal to tell truth to everyone. Sheetal tells Akshay is her boyfriend.
Akshay asks why she is tarnishing the brother and sister relationship. Paragi says you're the one using every relationship and he is marrying Ashi to threaten me and pressurize me and he is playing with kid's life in the factory and he playing here with Ashi's life and I won't let it happen and she asks Sheetal to tell the truth. Sheetal says you asked me to lie once but I can't lie anymore. Akshay recalls how he messaged her that he will marry her if she let this engagement happen. Paragi asks why she is lying and she asks her to tell the truth to everyone and she asks Sheetal to give her phone to see their photos. Sanjay and other family members asks her to stop. Sanjay takes Paragi to her room. Sheetal apologises to everyone for causing the inconvenience and she leaves.
Sanjay asks Paragi why she is behind the Akshay family? What do you achieve by doing this drama? Paragi says she will prove him along with their family when she gets the proof. Sanjay requests her to not spoil his family's happiness. He goes outside and he apologises to Narayan from Paragi's side. Narayan says they are calling off the engagement throwing off the ring from Akshay's hand. Akshay asks how can he punish Ashi for Paragi's mistake. Family members request him to not punish Ashi. Akshay takes the ring and tells he loves Ashi and can't leave her.
Sushma sees Paragi. She asks Paragi to apologise to Narayan holding his feet otherwise leave from our house. Paragi apologises to him holding Narayan's feet. Narayan accepts her apology and asks them to start the next ritual. Paragi thinks to expose them soon. Later Pramod and Baby talks badly about Paragi. Sushma asks Vinod why he is silent. Vinod says he still feels Paragi has reason to blame him and he asks Sanjay to say. Sanjay says Paragi did a mistake by spoiling the big day of Ashi. Paragi feels bad but she thinks to regain his trust by proving Akshay wrong deeds.
Episode ends.
Click to read