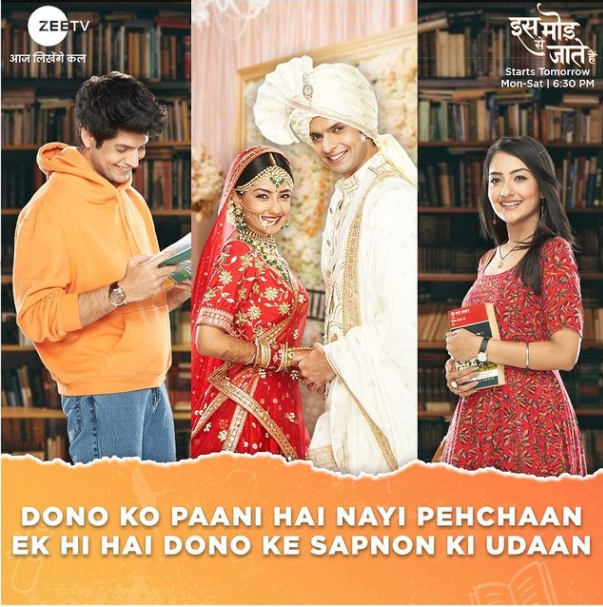 Iss Mod Se Jaate Hain 6th January 2022 Written Update on SerialGossip.in
Episode begins with Nutan gets angry and she tells Paragi that it's a biggest mistake from the latter's side. Paragi's family gets worried. Sanjay comes there and tells Nutan that it was an accident not mistake. He says that he also pour tea on her once by accident and she forgave him saying that he is her son. He asks her to forgive Paragi too because she is the latter's daughter. Paragi apologizes to Nutan and asks to forgive her assuming her as daughter. Chanda asks Sanjay's family to come inside. Nutan murmurs to Sushma that what kind of welcome is this and she won't stay silent if they made any mistake during ritual then. Chanda thinks that seems like this Nutan is weird.
Everyone goes inside. Sanjay tells Paragi that she is looking so beautiful in this simple look too. Chanda introduces her family to Sanjay's family. She asks them to eat sweets. Nutan refuses to eat sweet. Paragi's uncle tells her that it's a homemade sweet. She says that they should talk about horoscope first because Sanjay has to study also after returning to home. She asks Chanda to bring Paragi's horoscope. Paragi hopes that marriage should be fixed after her UPSC exam. Priest tells two dates. Paragi suggests after exam date. Nutan agrees with her. Sanjay says that after marriage too they can prepare for exam together. Rumi and Abhay teases him. Nutan tells him that it's a biggest exam so he needs time to prepare. But Sanjay convinces her for earlier date.
Paragi's uncle asks Paragi to bring gift cover. She goes inside. Sanjay follows her. She takes the gift covers and collides with him and they shares an eyelock ( Dil Mein Ho Tum song plays in the background). Rumi comes there and says that everyone calling them. She takes Paragi from there. Sushma begins the ritual. She asks Nutan to continue the ritual.
Shiva gets jealous seeing the gifts. Nutan shows the dresses to Paragi. Paragi's uncle tells her that only wedding dress comes from groom's side. She tells him that everything is designer dresses and she don't want Paragi to wear cheap dress. Sanjay tells them that he choosed all these dresses because he thought Paragi will look best in these.
Nutan asks Devi to show the jewels. She makes Paragi wear the necklace. Paragi bends because of the weight of the necklace. Nutan taunts Paragi. Chanda supports her. Sanjay tells Nutan that he also brought a gift for Paragi so he would like to give it to her. She nods at him. He takes the gift from Abhay and he makes Paragi wear the crown. He says that all the girls are princess to their parents. He promises that he won't let her bend for anything. Paragi's uncle goes to shop and his staff says that they don't have vehicle to deliver milk. Sanjay tells him that he will deliver it. Paragi thanks him.
Episode ends.
Precap – Nutan scolds Paragi's uncle for sending Sanjay for milk delivery. Paragi asks her to not talk like that with her uncle.
Click to read