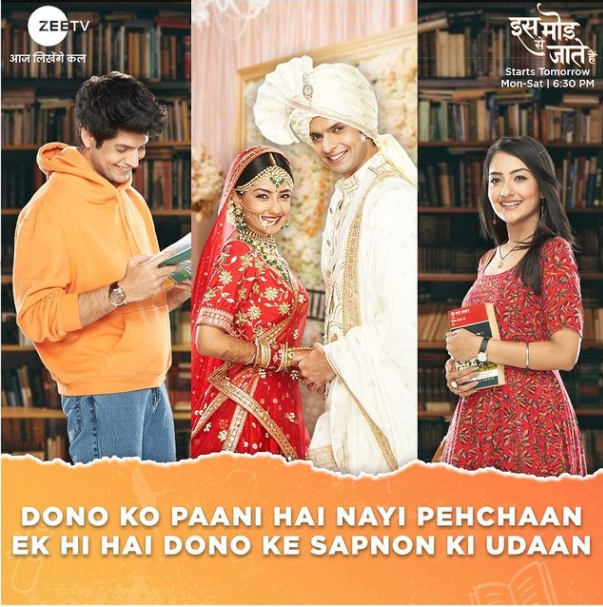 Iss Mod Se Jaate Hain 8th January 2022 Written Update on SerialGossip.in
Episode begins with Nutan notices Paragi's neck and informs her that their family necklace is missing. Everyone gets shocked hearing her. Paragi says that it must have fell down while dancing. Sushma agrees with her and says that they should search it. Everyone searches the necklace but could not find anywhere. After some time, Nutan says that it's their family necklace so they should check everyone. Sushma asks her that how can they do that when everyone is their family. Sanjay agrees with her.
But Paragi supports Nutan saying that emotions are connected with that necklace and moreover everyone will suspect her family only so it would be could to check everyone. Nutan notices Aditi's expression and thinks that it could be Aditi who stole the necklace and if it has been proved then she won't let this marriage happen. Pramod asks everyone to stand on line. Atul tells his father that it's an insult.
Nutan tells Paragi that something is blinking in Aditi's potli bag and she goes to Aditi and snatches the potli bag from her but finds nothing. Kinkar says that they are not thief to steal things. Pramod says that searching is not over yet. Sanjay stops him and says that he has the necklace because it was a prank. He says that Abhay motivated him for this prank. Abhay agrees with him. Sanjay asks everyone to relax. Aditi sees her leg where she wear that necklace. She thinks that if she has the necklace then why Sanjay saying like this. Nutan asks that what kind of prank it is and asks Sanjay to bring that necklace. He tells her that he gave it to Sushma. She says that Paragi should wear the necklace now. Sushma says that necklace hook has been broken so they should repair it.
After some time, Sushma goes to Sanjay and scolds him for the prank. He says that Paragi really lost the necklace and to save her from Nutan he lied. She gets worried and says that what she will do when Nutan will ask about the necklace tomorrow. He tells her that they has to buy the necklace in same design. Abhay hears that.
Gulshan mocks Aditi and tells her that Paragi just belongs to him. Mayank asks him to leave Paragi and concentrate on himself. He asks Aditi about money. She gives the necklace to him. Devi comes there. Shiva sees that Aditi meeting Mayank and Gulshan. She also notices Devi and thinks that Devi should not see them. She tries to stop her. Gulshan and Mayank leaves from there. Devi asks Aditi that what the latter doing outside. Aditi lies that she came to pick the call.
Nutan says that marriage is going to happen after UPSC exam so Paragi and Sanjay should not meet until marriage and they should focus on UPSC exam only. Paragi and Sanjay nods at her. Engagement ceremony gets over. Later, Paragi and Sanjay meets in Vinod's book store to study together. While taking book Paragi falls on Sanjay's arms. Nutan catches them red handed. She calls Paragi's family and accuses Paragi. Paragi defends herself. Chanda slaps Paragi.
Episode ends.
Precap – Chanda reveals that Paragi cleared UPSC exam but not Sanjay.