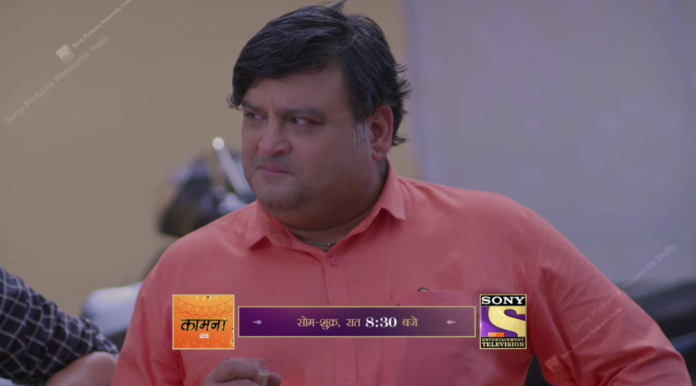 Kaamna Spoilers, Upcoming Story, Latest Gossip , Future Story, Latest News and Upcoming Twist on SerialGossip.in
Sony TV's newly launched show "Kaamna" currently deals with Akanksha trying to take Yadhu from Manav. Earlier its seen that Manav insulted Akanksha. Now it will be seen that Sakshi and Manav's relationship to get questioned.
Previously we have seen that, Akanksha visited the dead workers with fake sympathy. However she couldn't hold on to her act for long and behaved rude with the demised family. They cursed her. Acp questioned Akanksha but she showed attitude to her too and flaunted her money. Acp formed an investigation regarding the issue. She took Manav's help to lead the investigation. Sakshi and her mother in law tried calming Yadhu to apologize Leena and Ekta but he doesn't budge. Acp visited Kapoor mansion and Akanksha threw taunts her.
Acp taunted her back and took her to police station for investigation. Akanksha got shocked. She threw attitude but Acp made her wait. Unable to take the stress she barged into the room and got shocked seeing Manav. She accused him for getting revenge on her and threw things.
Manav and Akanksha had a verbal spat. Manav refused to investigate Akanksha until she clean up the mess she made. Sakshi heard a song by mistake and was traumatised with her past.
In the future episodes we will witness, Akanksha will search for servants in the house and learns that everyone has gone for leave. She will ask who gave leave for them when Ayesha comes there and says that it was her. Leena and Ekta will question Sakshi's relationship with Manav and Yadhu.
What will be Akanksha's next move? Will Akanksha let go off troubling Yadhu and Manav? Will Manav get his revenge?
All these questions will be answered in the upcoming episodes.
To know what will happen next in your favourite show Kaamna , stay tuned to this space.