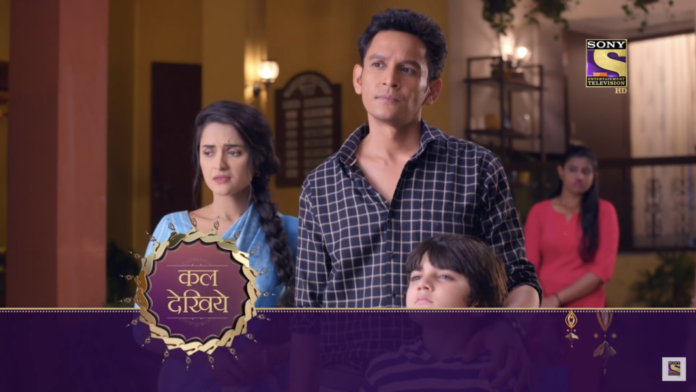 Kaamnaa 29th March 2022 Written Update on SerialGossip.in
The episode starts with Akanksha speaking romantic with Manav and says that she knew that he wouldn't let her get arrested and asks him to let go off the case . She tries getting close to get but Manav pushes her away. He says that he knew that she was acting but just wanted to witness for how long can she go in her shamelessness. He calls her characterless and cheap woman. Vaibhav is watching it all and calls Akanksha. Manav picks the call and says that he feels bad for Vaibhav. He thanks Vaibhav for showing the real face of the cunning woman and taunts Vaibhav. Vaibhav cuts the call.
Manav and Akanksha argue where Manav kept insulting Akanksha. Akanksha tries slapping him in fury when he called their love a business but Manav holds her and warns. He leaves getting sign in files. Vaibhav determines to show Manav what he could do and ruin him completely. Next day, Akanksha gets arrested and media covers it all. Vaibhav comes there with his advocate and says Manav that he would get a call now. Manav gets call from higher official yo stop Akanksha's arrest as they got stay order. Akanksha gets released. They both looks smirking at Manav. Vaibhav calls press for a conference in some time and goes in.
Vaibhav thanks press for attending the conference in such a short notice. He says that he's sorry for Akanksha's mistake and Akanksha gets shocked hearing it. He says that her mistake is to blindly trust her vendors who supplied them with low quality materials. Manav gets furious hearing it. Vaibhav puts the entire blame on the vendors and feels fake sympathy for the demised. He asks Akanksha to sign the complaint against vendors. Akanksha finds Karan as the main accused in it and asks Vaibhav about it. Vaibhav says that in order to save her it's needed to throw Karan under the bus. Akanksha signs it. He says that being the Managing director of Kapoor Constructions he's removing Akanksha from the post of CEO of the company for the mess happened. Akanksha gets shocked hearing it and Vaibhav asks Akanksha to apologise to media for her actions.
Akanksha listens fuming and leaves from there. She slips and falls in Manav's arms. She gets away from him. Manav says that he actually feels sorry for her as she left him and his love for the power and money which got snatched from her in an instant. Akanksha asks him to not feel bad as he was never her love but just an escapism which got extended. She says that she would do the same thing again and again if given a chance and leaves angrily. Vaibhav comes to Manav and taunts him. Manav challenges him that he would definitely ruin the power and position he holds but Vaibhav doesn't take it serious.
Precap : Sakshi will teach Yadhu. Akanksha will attempt suicide by dipping herself in bath tub cutting her nerve.
Click to read