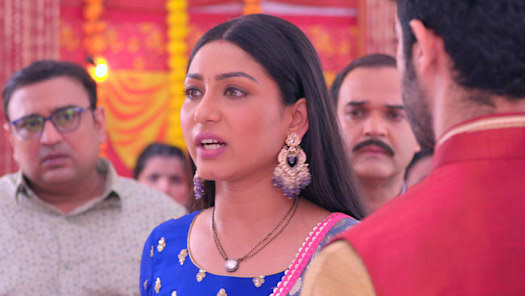 Kabhi Kabhi Ittefaq Sey Spoilers, Upcoming Story, Latest Gossip , Future Story, Latest News and Upcoming Twist on SerialGossip.in
Star Plus' popular show Kabhi Kabhi Ittefaq Sey is all set for a new twist with Gungun and Anubhav getting married.
In the current story it's seen that Anubhav marrying Gungun with his family's blessings. Charudatt and Sunanda plan to visit temple and offer prayers for Anubhav's return. Golu and his gang decide to plan a surprise for Gungun and Anubhav when they will come back from Mumbai.
Ranvijay's father, Mithilesh, lawyer tells that Anubhav is alive and Ranvijay's life will get ruined if Anubhav testifies against him. Ranvijay's parents go to the police station to see Ranvijay and learn that he got shifted to another jail where dangers criminals are kept.
Shankar is gets furious that Anubhav married Gungun without divorcing Akriti. He phones Garima and argues with her over the same. He threatens to file court case against Anubhav and Gungun. Garima threatens to complaint against him of he does so.
Shankar gets scared and advises Akriti to forget Anubhav. He confesses that Garima left him because of his affair with his sister-in-law after her brother's death. He feels guilty of his misdeeds. He advises Akriti to learn lesson from his mistake and apologize to Garima, Anubhav and his family.
In the upcoming episode it will be seen that Anubhav and Gungun will be return to the Kulshreshths. Family will welcome the newly wedded couple and will do Gungun's griha pravesh.
Chandru will say that they should celebrate the return of Anubhav and his bride with sweets. Golu will joke saying that Charudatt should pay it. Charudatt will regret of recognizing his daughter-in- law. He will join his hands and will apologize to Gungun. Gungun will say that he is like his father, so he shouldn't apologize to her.
What will happen next? Will Akriti realize her mistake and will apologize to Anubhav and Gungun?
Stay tuned to this space for latest update of your favorite Hindi shows.