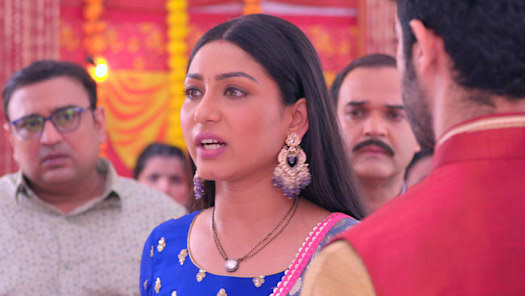 Kabhi Kabhi ittefaq Sey Spoilers, Upcoming Story, Latest Gossip , Future Story, Latest News and Upcoming Twist on SerialGossip.in
Star Plus' popular show Kabhi Kabhi ittefaq Sey is all set for a new twist with Gungun and Anubhav having a new start.
In the current story it's seen that Kulshreshths give a grand welcome to Anubhav and Gungun. Gungun shares with them how Armaan saved her first from Ranvijay then motivated her to move on in her life and offered her a job due to which she was able to meet Anubhav in the fishermen locality. They all wonder where Armaan is and realize that he left.
Golu feels guilty of doubting Gungun and apologizes to her Charudatt also apologizes to Gungun for misunderstanding and insulting her. Gungun says that he is like her father so, he shouldn't apologize to her. Meanwhile a heartbroken Armaan is crying remembering Gungun. Just then Gungun comes. She asks if he was crying.
Armaan denies. Gungun asks what he wanted to tell. Armaan says that no use of saying this now as he lost it. He says that he promoted Gungun as an associate editor. Gungun worries if she's can to handle such a responsibility.
Armaan believes that Gungun is capable. Gungun invites Armaan to Anubhav's come back party.
Later Gungun tells Anubhav how much she missed him. Anubhav promises her to be always with her.