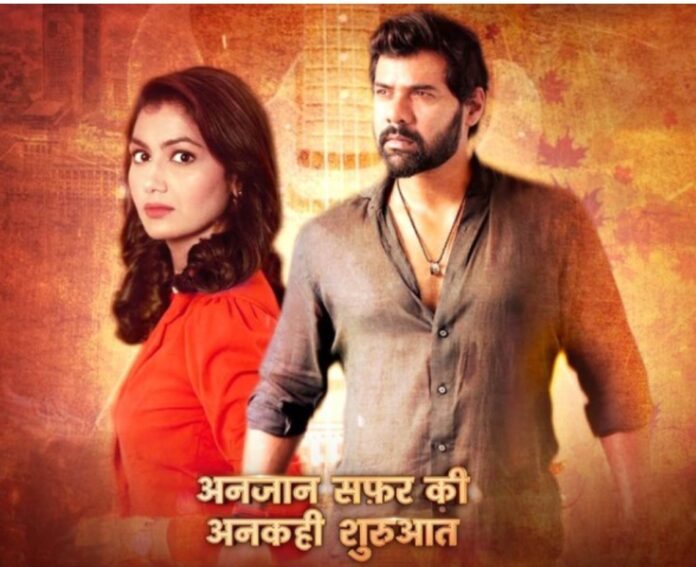 kumkum Bhagya 10th January 2022 Written Update on SerialGossip.in
The episode starts with Sahana asks Prachi to remember everything. Prachi says Rhea planned everything from the starting itself that's why she gave photocopies to me. Sahana asks what they can do. Daljeet says you have to teach her lesson like tit for Tat in her way. Sahana says you're also. Daljeet says I also want to unite Prachi and Ranbir, so let them get united by joining our hands. Prachi says i came to get back my rights not love. Daljeet says you can't get rights until you get Ranbir. Prachi says you're not understanding. Daljeet asks if she wants property, money and name from Ranbir. Prachi says no. Daljeet says you want his love. Prachi says i dint want him and his love. Daljeet says i like when you say you're wife of Ranbir. Prachi says i can't tell it too, as i signed admittance papers. Daljeet says they can plan if they knows opponent strength. Sahana says they have to steal papers from Rhea. Daljeet says i know we have to steal papers from locker but how. Sahana says let's make Rhea inebriated to get keys. Daljeet says don't spoil your hosiyarpur name as Rhea won't drink from us.
Shahana asks Prachi to give some idea as yours hands have Hoshiarpur's name and Rhea's control. Prachi says she is not getting any idea but we have to get those papers by burning home. Sahana and Dida asks her to not burn the home. Daljeet says she has an idea which is strange but you guys can't do. Sahana and Prachi insists her to tell them about her plan. Dida says Kohli house shall have a raid and you guys have to do that raid by coming here in disguise to steal the papers from Rhea locker and she asks them how's her idea.
Vikran cancels his meeting. Pallavi asks why he is doing. Vikram says i can't leave you alone. Pallavi says she can handle it. Vikram says i feel we are doing something wrong. Pallavi asks in which way. Vikran says i feel we did wrong by taking Prachi sign with deceit, anyways it's better if i go to office and he leaves to office. Aliya comes to Pallavi room and asks her what happened.
Prachi says it's strange plan. Sahana says Rhea won't expect this counter attack so think about it. Prachi says we don't know anything and Vikran and Ranbir are educated so we can't reach to Rhea room. Daljeet says we will implement our plan when Vikam and Ranbir went to office and i will manage the hurdles. Pallavi says this house people thinks from heart. Aliya asks what she wants to say. Pallavi says i feel Vikram started to see faults in Rhea as he feels Rhea idea of talking signs from Prachi is wrong so it's better if we throw Prachi out from house before his heart changes. Aliya says Prachi will be out as Rhea went to pack her bags. Pallavi says it's good so please stay here until Prachi leaves. Aliya says tonight stay is enough as she will be out tomorrow.
Rhea goes Prachi room and says Dida won't get connected to Prachi as you will feel bad when she goes. Dida asks why she goes. Rhea packs Prachi luggage. Prachi stops Rhea from taking her suitcase and says she won't leave from the house. Rhea says you become Lazy and you won't leave until I get letter from court so wait for another day to leave and she asks Sahana to stay to take Prachi with her and Dida, i will allow you to meet Prachi in the outside of house. She leaves. Prachi says we have to break her proud and she agrees to implement Dida plan. Daljeet says let's implement once Ranbir leaves to office.
Sahana and Prachi sits to have their dinner. Sahana asks won't she feel alone in her pregnancy. Prachi says baby is with me than how I can feel alone, she coughs. Sahana goes to get water. Prachi recalls her convo with Ranbir and feels emotional. Ranbir comes to home and tries to wipe her tears with kerchief but she denies. Ranbir asks can he know why she is sad. Prachi says you lost the right to know. Ranbir says i lost the right but you want rights. Prachi says she is confused. Ranbir asks her to listen to her heart. Prachi says I meant to say I know what I don't need in my life. Ranbir asks what she don't need. Prachi says i don't need you and your help.
Episode ends.
Click to read