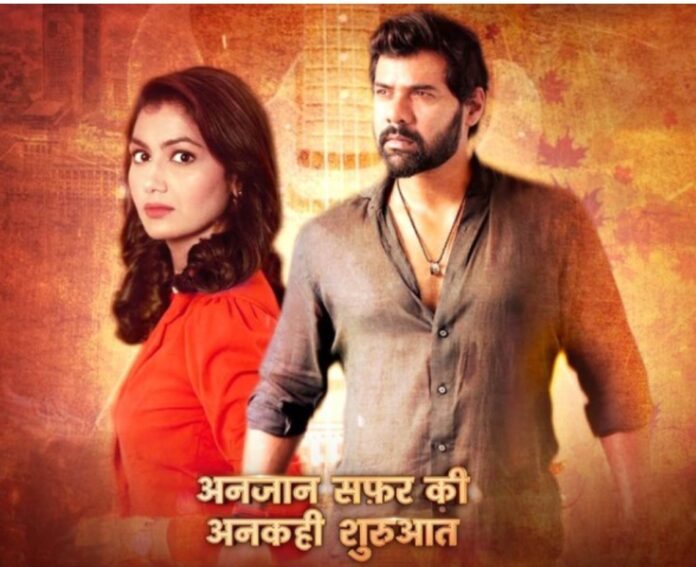 KumKum Bhagya 18th February 2022 Written Update on SerialGossip.in
The episode starts with Prachi crying seeing herself in the mirror and she recalls how Ranbir applied vermilion to her in their marriage. Dida hugs Prachi and asks her to not cry as it will make her weak. Prachi tells wounds given by closed ones is deep and I feel broken and I fought with Ranbir when it comes to my self respect and left from here and then I came here fighting with my Badi maa and in both situations I'm alone but that time I didn't felt this bad but now I'm feeling like my soul is leaving me and I know the importance of Kumkum but didn't expect that it will leave me broken when it went from me and when I saw myself in the mirror without kumkum then I felt like a Lifeless person.
Dida tells everything will be fine and asks her too wear kumkum on her mang. Prachi says no and she vows to wear Vermilion only if Ranbir puts it on her in Pallavi's presence and she tells them that she is going to bath as she has to go somewhere. Dida asks where is she going. Prachi tells they will know through phone call.
Aliya tells Pallavi that she didn't do any wrong and Prachi is making your family members against you so make Prachi leave from here. Prachi gets inspector call. Pallavi comes to Prachi's room and tells she have to leave. Prachi asks her to attend the call. Inspector says first we called you but you didn't attend the call and we arrested Rhea and Ranbir. Pallavi asks why they arrested them. Inspector asks them to come to police station. Pallavi takes Vikram and they rush to the police station.
Prachi leaves with Dida and Sahana. Rhea asks Ranbir why he locked himself in washroom? Questions if he is running from her. Ranbir calls Inspector and asks if he contacted the given number or not. Inspector tells he contacted the number he gave. Rhea asks if he is following Prachi's orders. Inspector tells it's a routine raid and leaves.
Prachi arrives at the police station with members of women's right. Rhea tells Ranbir that Prachi did it and I will take revenge on her if I meet her then she sees Prachi. Ranbir says why she came. Rhea tells she will make Prachi cry. Inspector asks who's she. Prachi tells she is the wife of Ranbir. Inspector asks if she knows what her husband did.
Rhea sees so many ladies and tells them she came to trap them. Dida worriedly does to Ranbir. Rhea asks her to tell she is wife of Ranbir. Dida tells Prachi is Ranbir's wife. Rhea tells the inspector that Dida is lying because of Prachi. Prachi says she may shout more so release her. Vikram's car gets repaired and he tells them that they need to go in a taxi.
Inspector asks Prachi to tell whats the truth. Rhea says she doesn't even have Kumkum. Ranbir asks where is kumkum? Questions if she removed her kumkum. Prachi says you're removing our relation but you're talking about kumkum and she tells Inspector that Rhea is her sautan. Ngo women tell they will help her. Pallavi comes there and hugs Rhea. Prachi introduces them as Ngo people. Ngo's head tells they receive a complaint and she gets it after seeing everything.
Ranbir asks Prachi why she is doing it when she said she doesn't care about him Prachi says fights are common between couples. Rhea tells she is his wife. Prachi says why they went to that kind of hotel if she is the wife of Ranbir. Rhea tells you sent us on honeymoon. Prachi says it's my helplessness as you trapped my husband and I left it to god and he sent you to bade Sasural when I'm at my Sasural. Rhea tells she is the real wife. NGO woman asks Rhea to leave Ranbir.
Aliya says Rhea is the wife. Aliya asks if she saw Ranbir putting vermilion Rhea. Aliya denies. Rhea asks Ranbir to say. He says they won't believe without proof. Prachi tells he can't marry another woman when his first wife is alive and his second marriage is illegal. Inspector asks if Ranbir married Rhea too. Dida says it's true. Inspector tells it's illegal and he may get arrested for having a second marriage without divorcing his first wife. Rhea and Pallavi get shocked.
Episode ends.
Click to read