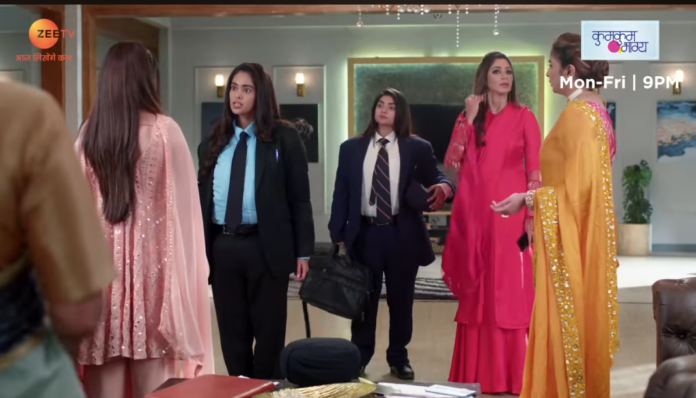 Kumkum Bhagya 20th January 2022 Written Update on SerialGossip.in
The episode starts with Ranbir telling Prachi that she become a stone and while talking to you I'm feeling like hitting my head with a stone. Prachi tells him to stop. Ranbir tells it's the truth that you can't bear. Shahana asks them to end their fight. Ranbir says she has to face it, I tried to solve problems but you behave like I created problems in your life. Prachi says you're responsible for my problems and you deserve my treatment as I know you're showing fake love and care. Ranbir says fine, let's write a new chapter, you don't want to face me right? Now onwards you won't even see me and he enters the home angrily. Prachi to leaves. Shahana thinks it's their love and she prays to god to unite them.
Ranbir enters home in anger. Pallavi asks him to join them. Ranbir tells her he wants to take a rest. Rhea tells she is happy to see him. Ranbir says your happiness may change tomorrow. Rhea tells she didn't get it then she sees Prachi entering their place in shock. Ranbir says your happiness is gone so your happiness seeing me is fake and you guys don't care about me. Prachi asks him to talk with her when he had a problem with her.
Ranbir says here talking is like fighting with each other and now I want to fight with Rhea and he asks Rhea why she married him. Aliya asks why he is questioning strangely. Ranbir asks if she didn't notice any strange things at their place. Pallavi asks why he is not answering directly. Ranbir tells he is frustrated of their fights and I'm becoming mad and I won't support you in these fights. Prachi tells he never supported her. Ranbir tells she stopped seeing him know his help then he sees Shahana and asks her to take a rest going inside. Rhea asks why she will stay with them. Ranbir says it's my house and I have a right to decide so Shahana will stay here as Saritha aunty is out of town.
Ranbir says you come here to take your right. Shahana says he is overreacting. Ranbir says I came here to bail out her leaving my meeting but she can't see it. Rhea says she is angry with him for bailing out Prachi. Ranbir says these two sisters are controlling our moods. Vikram asks him to stop. Ranbir asks why can't they react when the sisters are fighting with each other? I'm frustrated as I'm losing myself. Pallavi asks him to control.
Ranbir says you're taking care of Rhea leaving your son and these sisters had their differences and they are planning and plotting against each other which is ruining the peace of the family and he scolds Rhea for keeping their family reputation at stake filing the case again Prachi and you guys didn't inform about this matter as Rhea is important to you than Our reputation so I'm pleading you guys to not ruin the reputation of our family. Vikram asks where is he going. Ranbir tells for fresh air and he asks Dida to arrange a room for Shahana.
Rhea asks them to explain what Ranbir meant. Pallavi asks her to understand Ranbir's anger. Rhea asks is he angry because of her. Vikram says you did wrong by sending Prachi to jail and shame on us Pallavi for making it happen. Rhea asks Pallavi if she feels the same. Pallavi says both of you're our respect and leaves. Rhea thinks to prove she is the wife of Ranbir, not Prachi.
Shahana tells Dida she is happy with Ranbir's outbursts. Dida says true and he is in pain too. Shahana says it's because of Prachi's words. Dida asks how can she help them. Shahana says there is a wall between them that is not allowing them to unite. Dida asks which wall. Shahana says there is some misunderstanding which we have to clear. Dida agrees.
Prachi goes to her room and thinks about Ranbir's words. Rhea comes there and asks her to don't think of it as her defeat. Prachi says Ranbir can come to me but I don't want him. Rhea says you don't want to have him and you're jot letting us live and it's tough to understand what you want. Prachi says but everyone can see what you want.
Episode ends.
Click to read