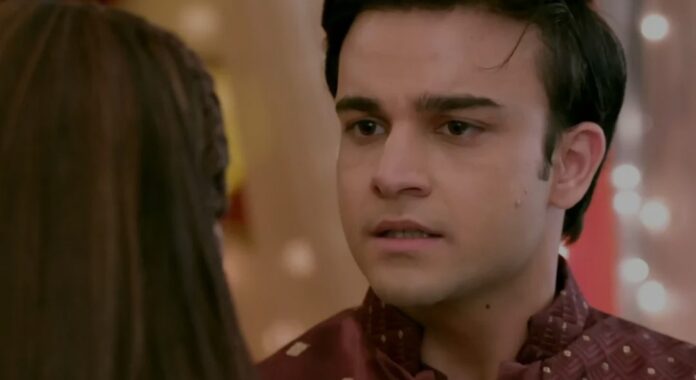 KumKum Bhagya 22nd November 2022 Written Update On SerialGossip.in
The episode starts with Alia saying to Rhea thank God you're fine. She asks Rhea to tell her what happened. Rhea says Maata Prachi saved me took all credit and everyone is hailing for her because of your goon. She says she doesn't forgive Prachi and doesn't know if it's starting of the problem or the ending. Alia asks her to not talk badly and tells ger that everything gets settled. Rhea says you're thinking positive but nothing will be okay, Mihika's presence is dangerous to us and I can't bear it if Sid and Prachi don't marry so I'm going to make positive for us. Alia asks what's she planning. Rhea says you will know it and she requests Alia to make her men arrested who tortured her. She leaves. Alia calls the police.
Sid asks Shahana to take care of Mihika. Shahana assures him she will take care of Mihika by becoming her shadow. Prachi comes there to tell them something. She stops seeing Ranbir's performance. Ranbir forwards his hand for Prachi but Rhea joins him. Ranbir escapes from Rhea. Prachi joins Ranbir. They dance together. Shahana, Sid, and Aryan don't let Rhea join Ranbir. Alia notices the courier boy near the doorstep. Alia threatens the courier boy and takes him to her room. Pallavi gets angry seeing Prachi and Ranbir together. Rhea notices Alia taking the courier boy.
Courier boy requests Alia to leave him. Alia threatens with her fingers and asks him to hide in the cupboard by trying his hands. He takes ropes and notices Alia doesn't have any gun with her and tries fo escape. Rhea hits him with a plate. They decide to leave him outside and they hold his feet and drag him out.
Pallavi questions Prachi why she is not staying away from Ranbir. She warns Prachi to not force her to take a step that may make her hate her. She leaves. Vikram is about to go behind Pallavi. Dida stops him telling Prachi and Pallavi are correct in their positions so don't tell anything to Pallavi. Vikram agrees. Rhea and Alia drag the courier boy to the kitchen. Ranbir feels suspicious and comes to the side. Shahana sees some is taking Mihika and follows him. Rhea and Alia try to hide Courier boy in the kitchen shelf but they leave him seeing Ranbir. Rhea diverts Ranbir's attention by acting like she is feeling dizzy. Alia asks him to take Rhea to room. Ranbir lifts Rhea in his arms and takes her. Alia feels relaxed and hides the courier boy in the shelf.
Shahana notices Alia man is taking Mihika. She thinks to inform Prachi about Mihika'a location but she didn't find her phone. Alia man comes to her. Shahana escapes from him. Rhea smiles seeing Ranbir. Ranbir asks if she is fine. She tells him she is fine then he makes her stand and leaves. Alia joins Rhea and tells her that she hides the courier boy and they go to function.
Shahana hides from Alia's men. Vikram asks Ranbir where is Aryan. Ranbir says he is missing. Vikram sees Pallavi and Dida are happy together. He says it's bad for him. Prachi says shopping might be the reason for their happiness. Vikram asks Pallavi why they look happy. Pallavi says shopping. Ranbir says it's proven lady can read other ladies' feelings. Everyone rocks the dance floor with their performance. Doctor Preethi comes there. Rhea notices her.
Episode ends.
Also See: