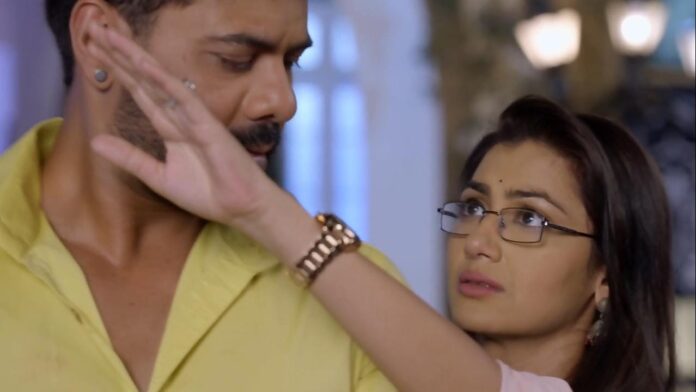 Kumkum Bhagya 24th March 2021 Written Update on SerialGossip.in
The episode starts with Aliya says Brother can do anything for Rhea. Pragya thinks past words of Abhi. Tanu says I know and I'm going to temple for Abhi health, she notices Gayathri and asks if she is listening their convo. Gayathri says you guys are talking in high tone than what's the need to listen it by hiding. Aliya asks her to leave to temple. Digvijay meets Raj and asks him about Abhi. Raj says Abhi is fine and today is his daughter engagement. Raj leaves. Digvijay thinks to shoot Abhi in party, so no-one can found who shot him.
Gayathri searches for Abhi. Abhi comes out from cupboard and asks if she bought him chocolates. Pragya says no need to hide in cupboard and she gives him chocolates. Abhi says he don't know how to eat. Pragya tells him that she will make him learn it and goes to get food. Abhi plays with Fuggi than he comesout while searching Gayathri. Aliya asks why decorations are still happening. Mitali says it will be over in 5minutes, that Tanu said many words but she is nowhere to help me. Aliya says she went to temple for Abhi health. Mitali says how you believed her words? Tanu cares for her beauty that time Tanu comes after getting ready at parlor. Aliya scolds Tanu for lying to her.
Abhi runs to Tanu after seeing her and asks if she can play with him. Tanu agrees than tells to Aliya that their is power of clothes and makeup that's why went to parlor and she goes with Abhi. Aliya feels happy and says Tanu did correct by going to parlor. Abhi says let's play bal bal Bach gayi. Tanu looks confused. Abhi says her face is good and he touches her cheeks. Tanu closes her eyes.
Ranbir throws his dress and says he don't want to get engaged. Pallavi gets hyper. Ranbir says it's prank on Aryan but you're behind me. Pallavi asks are you sure it's prank. Ranbir says yes but what you felt. Pallavi says I felt your words are true because you still love Prachi and I know what you took in carton that day. Ranbir says I burned all my memories with her but don't know whether I'm doing correct or not. Pallavi says happiness is knocking your doors don't let it go. Ranbir says you're right. Pallavi goes listening Dida call. Ranbir feels emotional seeing his ring finger.
Abhi asks her to open eyes. Tanu asks if he wants to kiss her. Abhi makes her sit Infront of mirror and asks her to open her eyes. Tanu shouts after seeing her ruined makeup. Abhi says you're looking like cat. Aliya and Mitali goes upstairs after listening Tanu shout. Tanu comesout from room than everyone laughs seeing her. Abhi asks Tanu to say meow. Tanu leaves from that place frustratingly. Aliya follows Tanu.
Pragya goes to Abhi, he asks where she went. Pragya takes him to set his face. Aliya stops Tanu. Tanu says Abhi ruined my expensive makeup. Tai asks Mitali to give dress to Gayathri. Abhi tells to Pragya how he painted Tanu face like cat. Pragya smiles and cleans his face with tissue.