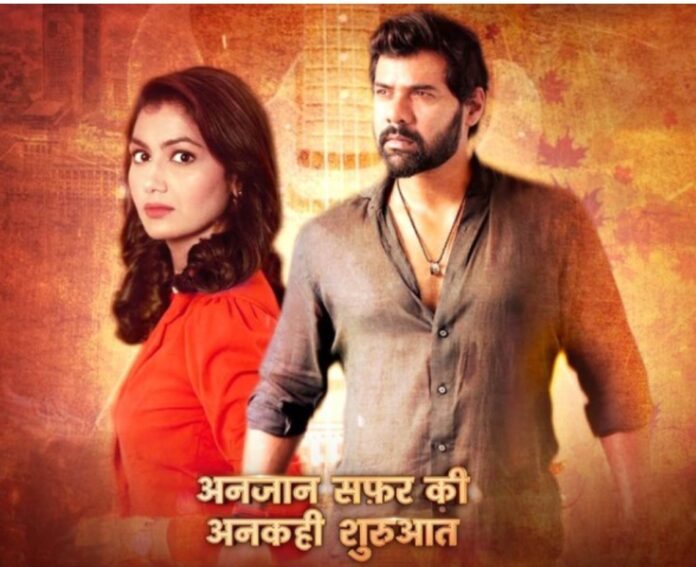 KumKum Bhagya 25th November 2021 Written Update on SerialGossip.in
The Episode begin with Rhea telling Ranbir that the girl who did wrong with her and he can't hear anything against her. She says first she snatched her dad and then him. She says then she snatched her husband too and ruined her everything. She says he has made yourself busy in business and asks what shall she do, where would she go. She says he didn't think about her. She says he is being selfish and due to him her life is getting ruined. She says she thought that she will make a new start but what did she get. She says she is not mad to think that and says her friends are better than them all. She says people don't see her pain and asks why she is staying here and says everyone is betraying her, not just Sid and Prachi. She says Mom and Dad are in coma, and they all are in confusion Prachi is in Sid's embrace, then why she is here in this world. She says she should not live and closes the door. They ask her to open the door.
Rhea smiles and closes her ears. Dida says if she do soherthing then family will be in problem. Rhea says she is still thinking about family. She asks them to go from there. Vikram and Pallavi insist her to listen. Rhea says she will commit suicide with the knife kept in my room.
Pallavi says I swear she will do everything fine. Rhea smiles and sees Ranbir coming to the window and knocking on it. She silently open the window a bit. He tries to open and it opens. She pretends to shed fake tears and threatens to cut her wrist. Pallavi cohers to the window and says don't do this. She says she always thought good about her. Rhea says people made my life as joke. Ranbir asks why is she doing this for someone who is not important for her and says don't take your life.
Rhea asks why she should hear him when he don't want to listen to her. She asks him to hear. Ranbir says keep the knife away, just for her. Vikram tries to break the door and hurts himself. Pallavi says if Rhea commit suicide, then they will go to jail. She says they will all pay for it. Rhea smirks. Pallavi asks her to open the door. Dida asks her to talk good. Pallavi blames Ranbir and says if he had heard her that day, then this wouldn't have happen. He remembers Pallavi asked him to marry Rhea.
Ranbir refuses. Pallavi says don't give a chance to Sid and Prachi to ruin his life. Ranbir says he will not give them chance and want to tell her that his life got better after she left. He says he don't want to marry anyone.
Pallavi says he told that Prachi didn't matter to him and says if he don't want to marry then that it means he still have soft corner for Prachi. Ranbir says he don't want to marry as he don't believe on marriage. Rhea opens the door and says she trust marriage and heard that the girl goes out on the arthi. She says he will either lift my doli or arthi after her death. She says either marry her or just let her die. Ranbir is shocked.
Sid says the truth which he know she shall also know Prachi. Prachi says she don't want to hear the way he is telling against them. She is about to go. Sid says why she didn't tell her before that before your marriage with Ranbir, Rhea and Ranbir were about to get married. Prachi says when they came from Bangalore Mummy refused to let her enter and she thought everything is cleared. Sid says may be his question was wrong and says why didn't she tell her that Ranbir left Rhea on the mandap and went to marry her against his family's will. He says the matter was that, he left Rhea and married her. He says Rhea attempted suicide due to this and then Vikram Chacha and your Dad never met after whatever happened with Rhea. He says her dad started hating her and her mom and dad got separated. He says she didn't tell him this. Prachi says she didn't know that he was unaware about it. She says when she met him and Rhea after their marriage, she didn't want to interfere in their happily married life.
Sid says happy marriage and says Rhea's behavior was strange always. He says that day he called you from the hospital and then we went to the hotel room then suddenly smoke came in the room, and the door was locked. He says then she saw someone.
Prachi says then they fell unconscious. Sid says they fell on the floor unconscious. He says when they gained consciousness, they were on the bed and Rhea and Ranbir was in front of them. He says the smoke might have came by mistake but how can they be found on the bed together. He says it was not accidental and says she tried to explain that it was a misunderstanding but it was a conspiracy. He says whatever was shown was staged. He says when she went out of the hotel he went to CCTV room but couldn't get any evidence and saw soherone keeping eye on them. He says it was a plan to show their legitimate relation as illegitimate. He says Kohli family wanted to get rid of them and that's why opted this way. He says he was like their son but not their son and she was their DIL but not their choice. He says he handled himself as he cane to know as it was a conspiracy. He says she didn't hear Ranbir after that but he heard Rhea to clear her the matter. He knew that she was meeting her Bangalore friend and met her in the hotel lobby.
He remembers how he tells Rhea that he just loves her and doesn't have any affair with Prachi. Sid says they went to the hotel room. Rhea says then suddenly smoke came and you fell unconscious. She tells that she didn't want to marry him and wanted to divorce him but dropped the idea when she sees Kohlis, as she wanted to stay with them. Sid says what about her sister. Rhea says she is my enemy and snatched her everything from her but can't snatch my destiny. She says Pallavi liked her from the start and wanted her to become her bahu. She says they were about to get married but Prachi blackmailed Ranbir and he left her on the mandap to marry Prachi. She says didn't he notice why Pallavi used to scold Prachi and used to praise her. She says she was her choice, and she wanted her to marry Ranbir. She says nobody used to like her one day Pallavi talked to them and made a plan to get rid of Prachi. She says Vikram and Ranbir was there. She says that lady was Pallavi who got the gas leaked and then Ranbir made them both lied down on the bed and then he know.
Prachi says Ranbir's pain was genuine and it was not any drama. Sid says Rhea said that it was drama. He remembers how Rhea said it was planned by them and pretend as if they got pain of life. She says Ranbir said all those things so that Prachi shall feel the pain. She says else she wouldn't have left the house. She says Pallavi wanted Ranbir and her to marry as they love each other. She says they used the and even they have to leave the house. She asks him to start the life again and asks if he will sign on the divorce papers or will see Ranbir and her together. Sid says then he understood why Rhea behaves sweetly when Ranbir was around. He says he saw them closer but was blinded by Rhea's love like her. The Screen Freezes.