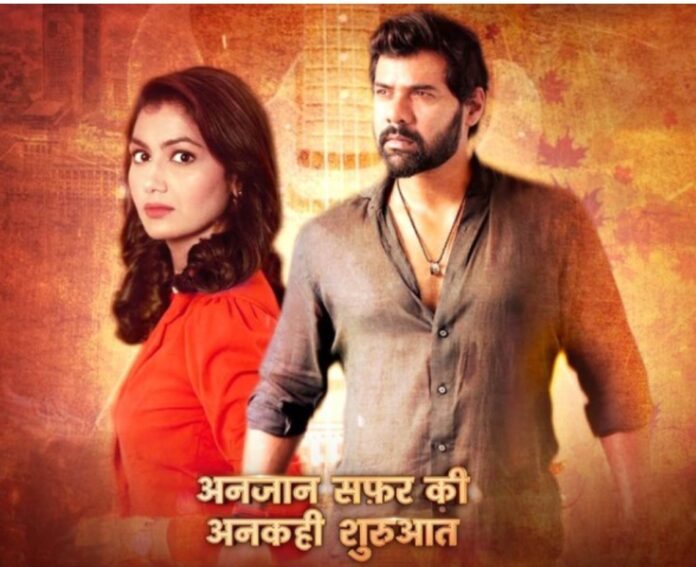 KumKum Bhagya 29th November 2021 Written Update on SerialGossip.in
The Episode begins with hotel staff lady congratulating Prachi for her pregnancy. She handovers the pregnancy detection strip to her. Prachi looks at the positive lines on the HCG strip and tells herself that she is pregnant reminiscing Ranbir rushing home and telling that we are pregnant. He lifts her and swirls her. Prachi asks what does he mean Ranbir says he is going to be a father. Prachi asks how can he become father and she is not Pregnant. He says he is happy with the happiness of becoming father. Prachi asks him to grow up first and then they will think about the child. He says her start up is her first child and then their baby. He says he has three dreams, first marriage with her, second child with her and third is the start up. He says he wants to be the father of a little girl and will be happy when she gives him little Prachi. He says he really want to be the dad and will keep her as the queen.
Prachi says mad husband. Ranbir says once she gets pregnant, she just order him to do anything and says little Prachi will call him Father. Prachi says first focus on the start up. Ranbir says he will become a good person and will forgive her for her mistakes. He says he will never hurt her. Prachi says we are pregnant Ranbir and then recalls his accusations. She gets teary eyes and thinks she thought to end her relation with Ranbir but now. She cries sitting on the bed.Ranbir is on call and tells that he has checked all the mails and it is perfect. Prachi cries. Ranbir looks at the window which gets opened with heavy wind. He ends the call and comes to the window. Pallavi comes there and informs him that Marriage is tomorrow. She says she spoke to Pandit ji and he told that mahurat is tomorrow else after a month. Ranbir asks if this is not too early. Pallavi says this marriage should have happened 2.5 years ago. She then asks for Sid's number.
Ranbir says he don't. Vikram says he does and asks her why does she need it. Pallavi leaves with him. Ranbir feels uneasy and strange and asks himself. He recalls seeing Prachi and Sid on the bed and gets upset. Vikram asks Pallavi if she is not done with whatever happened that she want to call Sid and inform him about Ranbir and Rhea's marriage. Pallavi calls Sid. Sid lifts the call. Pallavi asks if he deleted her number. Sid recalls Rhea's plotting and says he didn't know her. Pallavi asks him to say again and puts the call on loudspeaker. Vikram scolds him and calls him snake in sleeve. He counts the favors which they have done on him. Sid says he has done his death anniversary and now expecting from him. He says he was hurt before but now he knows the truth that he always wanted to get Rhea and Ranbir married. Pallavi takes the call and says they always wanted and says she is getting them married tomorrow. She says she didn't call him to invite but want to ask him to keep his inauspicious face away from their marriage. She says what does he think that Prachi and he have the right to move on and says Ranbir and Rhea has moved on and are very happy. Sid ends the call and thinks he is not effected whoever Rhea marries with. He thinks he should tell Prachi.
Rhea thinks if Sid creates some problem, and then thinks he can't do anything. She gets her friend's call and picks it. Shaina says she's going to reach airport and says men are like this and asks her not to take tension and think good and says she deserve better. Rhea laughs and says even she will laugh. She says she's getting married to her love and asks her to come and says she will tell her.Sid comes to Prachi and sees her crying. He thinks it seems even she got the call. He asks did she come to know. Prachi says just now and says she doesn't know how to react this time is such and says everything happens with God's wish. Sid says it was destined to happen tomorrow Rhea and Ranbir will marry and the chapter will be over. Prachi gets shocked and. Sid says Pallavi called and said that Ranbir and Rhea are getting married tomorrow. Prachi faints and falls down. Sid holds her and calls Sushma aunty.Pallavi calls the designer and asks Ranbir to give his measurements. Ranbir says it is a simple wedding and nothing will go wrong. Rhea says but it is a wedding and relatives will come. Pallavi says she have invited her close relatives and friends. Rhea says it matters to her.
Ranbir asks the designer to take the measurement. Rhea shows her dress. Ranbir says it is good. Pallavi says when Rhea sits with him on the mandap all your dreams will come true. Ranbir leaves from there. The designers leave. Rhea says Ranbir agreed to marry her but his heart is saying otherwise. She says her Ranbir is not marrying her. Pallavi says once marriage happens everything will be fine. Pallavi gets a call and asks Rhea to come as mehendi designer came. Prachi gains consciousness. Sid asks what happened. Prachi says don't call doctor. She says she fainted as. He asks if she got heart attack. Prachi says she have fainted as she's pregnant. Sid asks really. Sushma comes and hears her. She says she's really happy for her. Prachi goes to vomit. Sid says this is a good news. He says he will inform Pallavi and Vikram. He thinks to call Ranbir first and will ask him not to marry Rhea. Sushma hears him and stops him.
Shaina comes to Pallavi's house. Rhea says she is her friend from Bangalore, and came for her marriage. Shaina congrats her. Pallavi says she will be the bridesmaid tomorrow. Rhea says nobody is important than her. Mehendi designer comes there. Pallavi asks Rhea to get the mehendi applied and says she will go and get Ranbir's room cleaned. Rhea asks Shaina to sit and asks designer to show the designs. Shaina asks she thought she will be in depression. Rhea says she's getting married to her husband only. She says she never wanted to marry Sid and says now getting married to whoever she wanted to. Shaina asks then why did she marry Sid first. Rhea says as Ranbir had married her sister before. Dida hears her and asks her to tell fully. The Screen Freezes.
Click to read