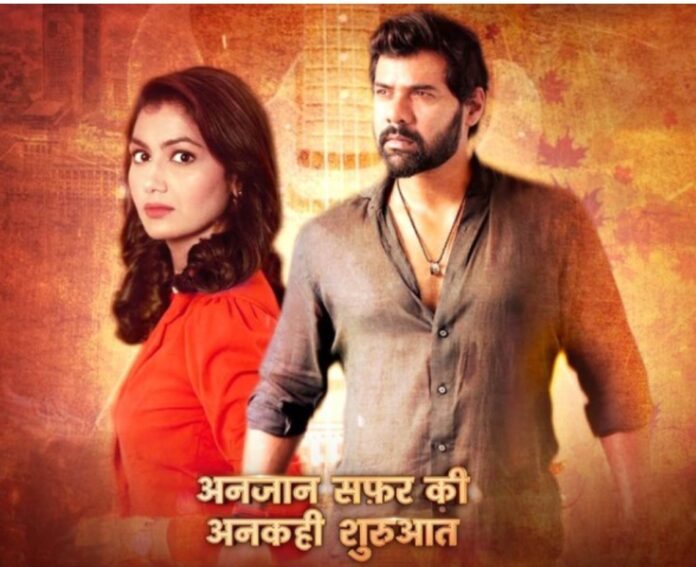 Kumkum Bhagya 2nd December 2021 Written Update on SerialGossip.in
The Episode begins with Prachi getting down from the car as she reaches Kohli house. She cries as she walks remembering their moments. Just then the flower garland on the door falls. Ranbir holds it and then looks at Prachi. He remembers his marriage with Prachi. She thinks where is Ranbir. Ranbir shouts at Servant and tells that he don't want sherwani options. Servant comes and asks who is she. Prachi says she is Prachi, Ranbir's wife. She says Ranbir can't do this marriage and asks where is he. The Servant tells that he is getting married to Rhea in banquet hall at 9 pm. Prachi is shocked and runs out from there. The taxi driver says she didn't give him the money. Prachi asks him to take her to banquet hall. Pallavi asks Pandit ji to read the mantras loudly, so that nobody's bad sight can break the marriage. Pandit ji remembers Rhea's words and asks Pallavi to call Ranbir as the mahurat time came. Pallavi asks Shiv to bring Ranbir. She asks Dida what happened to her if she is not happy with her grand son's marriage.
Dida asks how can she be happy after knowing the truth. Vikram comes and asks what happened. Dida says a girl is fooling all of us and says it is clear that she is blackmailing us and acted to commit suicide. Pallavi says today is the marriage day, don't say anything wrong. She says she don't want to hurt Rhea or her and lets celebrate this happiness. Dida says they both have stones on their head and says this happiness will take a big price from us. Pallavi says nothing of that sort happen, Rhea is a good girl and she always wanted her to be her bahu. She says they will not talk anything further and goes. Vikram asks Dida to sit and says he agree that Rhea emotionally blackmailed us, but did she think why she did this. She says they are responsible for this they made her sit in the mandap and then conveniently told her that the marriage can't happen as Ranbir married Prachi. He says he has always saw her as daughter and now his dream to make her DIL is coming true. Dida says whatever happened between Prachi and Sid was someone's conspiracy and says someone had trapped them. He asks her to go to temple but don't hear the ladies talk. He says this doesn't happen in real life. Dida says he can't make the life quiet, when it comes to him. Vikram says they will see the happiness and says lets enjoy it. He says if anything goes wrong then he will rectify it and nothing will happen. Dida remembers Rhea's threatening words.

Rhea remembers Ranbir making Prachi wear the ring leaving her on mandap for Prachi and expressing his hatred for her. She keeps her hand on her ears, remembering his words. She says she have won Prachi. She have won and says she have lost many years of her life and now she got everything and she have lost Prachi. She says she have won her Ranbir and says once this marriage happen, she will throw her out from his memories too. Shaina comes and says Pallavi is calling her for marriage mahurat.
Prachi asks driver not to stop the car. The driver says he might go to jail for not stopping the car. He says if it is urgent then call someone. Prachi says she don't have the phone. She asks about the time. He says nine pm. Driver stops the car and gets down to see it.
Ranbir gets ready in Sherwani and calls Prachi. He then tells himself not to call her. Shiv comes there and asks is he fine. He says he's called downstairs for his marriage. Ranbir says he will come. Shiv says he was asked to take him down. Prachi asks driver if the car is fine. Driver says he's checking. He calls someone and asks him to come as someone's life is in danger. Prachi tries to stop the cars. She cries. Ranbir comes downstairs for the marriage. He remembers Dida's words. Pandit ji asks them to make the groom wear turban. Ranbir wears turban. Pandit ji applies tika to his forehead. Ranbir imagines Prachi seated beside him and gets emotional. Prachi says don't leave me ever. Pandit ji asks Ranbir to put something in havan kund. Vikram and Dida call him. Ranbir calls Prachi. Shiv thinks why anyone will call his Servant on his marriage day.
Vikram asks what is he saying. Ranbir says Prachi told him never to leave her. Vikram asks to come with him. Ranbir says he know what he is going to tell him. He says he can't break the promise given to Prachi, and says he will talk to Rhea and says she will understand. He goes to talk to Rhea. Prachi says no car is coming. Shahana is in the car and asks the driver to stop the car. Driver says he can stop the car on the side. Someone splashes muddy water on Prachi. The driver arranges another cab for her, asks her to change the clothes somewhere and go in the car. Shahana gets down and looks for Prachi. She finds her gone.
Pallavi says she's looking beautiful. Rhea says she is her Mummy and Shaina is her sister. She says she feel so blessed and says her own mother and sister were sadness and darkness in her life. She says they both filled her life with happiness and thanks Pallavi and Shaina for bringing truth out. Ranbir is about to come inside the room, when someone pulls him out. Rhea looks on. The Screen Freezes
Click to read