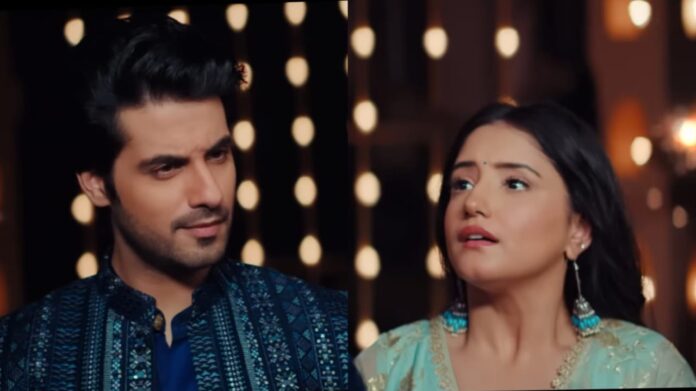 Kumkum Bhagya 9th November 2023 Written Update on SerialGossip.in
The episode starts with Visakha creating a scene at RV company. The company's manager ousts Purvi and Visakha from the company with the help of security. Rajvansh praises the manager for handling it well.
Visakha thinks RV's company is rude as they didn't allow them to meet Rajvansh and they also took away their food. Visakha sees Pushpa. Visakha asks Pushpa what is she doing here and says she came here for a business meeting.
Purvi sees that Rajvansh's car is nearly about to run over a kid. Purvi saves the kid. Rajvansh's car driver applies car brake at the last minute.
The people surround Rajvansh's car. Rajvansh asks the driver to handle it. Visakha sees that the car is from Rajvansh's company. Visakha asks the driver to give them Rs 1 lakh for trying to run over Purvi if not she will file a case on them. Rajvansh's driver comes and says to Rajvansh about it.
The driver gives the lawyer contact card to Visakha and asks Visakha to contact their lawyer. Visakha seeing this applies dirt over Rajvansh's car. Rajvansh car driver threatens to call the police seeing this. Purvi apologises and says she will clean it right away.
Purvi cleans Rajvansh's car. Rajvansh sees Purvi. Visakha pulls Purvi to aside. The mother of the kid thanks Purvi for saving her kid. Purvi asks the mother not to mind it.
Visakha thinks it's no use going there as they were not even able to meet the owner. Manpreet says to Visakha that they got the order and says RV company manager called them and they got the order. Prachi says the owner tasted the food that she left there and he liked it. Everyone praises Purvi. Purvi says they have to get to work. Purvi thanks God and prays for RV company's owner.
Rajvansh gives money to a Muslim. Muslim prays for his well being.
Prachi while doing work injures her hand. Purvi applies first aid to Prachi. Prachi thinks of Ranbir seeing Purvi's care for her.
Prachi hugs Purvi and thinks Ranbir might not be with her but Purvi is just like Ranbir. Prachi asks Purvi to go and send all of the order and says they should not give a chance for RV company to raise a complaint against them. Purvi says she understood Rajvansh and says she will handle him. Purvi leaves from there.
Prachi sees Ashok putting the Mangalsutra around Manpreet's neck and helping her get ready. Prachi thinks if Ranbir and leaves from there. Prachi goes to a side and thinks of Ranbir and has tears in her eyes.
Manpreet says to Ashok that he shouldn't have done that infront of Prachi. Ashok says Prachi is strong. Manpreet says Prachi might be strong but she is alone after Ranbir left her and no one can fulfill that loneliness.
Prachi looks at Ranbir's photo and thinks of Ranbir. Prachi dreams of Ranbir coming infront of her with a Mangalsutra in his hand. Ranbir helps Prachi sit infront of the mirror and puts Mangalsutra around Prachi's neck. Prachi has tears in her eyes seeing this. Ranbir comforts Prachi. Ranbir wipes Prachi's tears. Prachi holds his hand.
Rajvansh tries to make a deal with one of business clients but Mr Krishna Kakkar in the video call laughs at Rajvansh. Rajvansh says to Mr Krishna Kakkar that he should be here if he is serious about this deal. The business client says to Rajvansh that he can't talk to Mr Krishna Kakkar like that.
Krishna says he doesn't mind. It is shown Mr Kakkar is Ranbir. Prachi wishes that Ranbir is alive.
Episode ends.
Precap:- Krishna says to Rajvansh that it takes a lot of time and effort to catch small fish and says he doesn't have that much time.
Purvi's fiancé comes and apologises to Prachi's family as he was late. Purvi learns that Rajvansh is coming to this function and she tries to look at him.