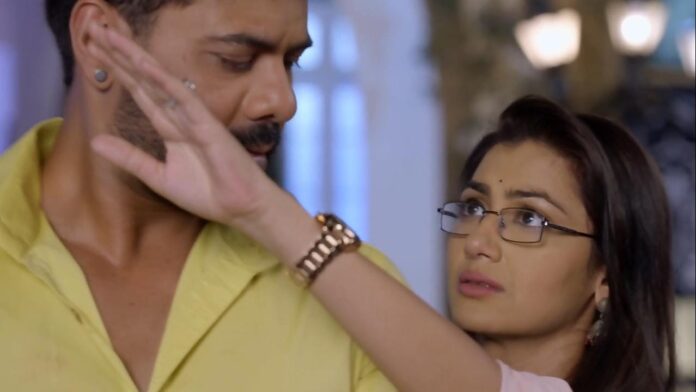 Kumkum Bhagya Upcoming Story, Spoilers, Latest News, Gossips, Twist On SerialGossip.in
Episode starts with Pragya says I'm tired while fighting for me right, you can give it to who you want and she gets hurt while removing the ring. Abhi helps her to remove it slowly. Meera opens the washroom door to talk with Pragya than apologies to Pragya opening it and informs Pragya that Mr Mehra is marrying me, do you have any objection. Pragya says she is happy because their nothing between me and Abhi to raise objection. Abhi says nothing. Meera says you reduced my burden until now I'm feeling guilty so thank you. Pragya says I must thank you because now I can move on in my life forgetting the past and she places Necklace and ring in Abhi hand and leaves from washroom. Meera thinks everything is sorted out but then she sees Abhi coming out from washroom.
Pragya cries. Tony and his men searches for Pragya to get the necklace. Ranbir sees Ring pic from Rhea and than gets video call of Rhea and she says she called him because her mood is upset. Ranbir asks why she is upset. Rhea says nothing and asks him how's the ring. Ranbir asks for whom she bought it. Rhea says it's for their engagement. Ranbir says it's nice but buy when our engagement is fixed because trend may change. Rhea says fine than Ranbir sees Prachi and Shahana through video call and tells Rhea about it. Rhea says that's why I'm upset. Ranbir asks her to tell what happened but their call gets disconnected because of network.
Rhea sees Pragya going without noticing her and thinks Pragya is avoiding her intentionally. Aliya asks her employee to complete the work than she gets Meera call. Meera says their is something wrong so please guide me. Aliya asks her to tell. Meera says Pragya and Abhi cane out from same rest room. Aliya says maybe she is misunderstood. Meera says nothing because I saw it. Aliya asks where is Bhai. Meera says he went behind Pragya and I'm not understanding anything. Aliya says that's what I want to tell you but you're not understanding than call gets disconnected.
Saritha sees Pragya in tears and asks what happened. Pragya Informs to Saritha about Abhi and Meera marriage and tells her about how shopkeeper mistaken her as Abhi would be wife and she cries badly. Saritha asks Pragya to stay and goes to somewhere. Shubra listens their convo. Pragya sadly reminsces her past moments with Abhi and Rhea. Shubra comes to Pragya and introduces herself to Pragya and tells Pragya that she too having same problem like her and we have two kids, sometimes I feel why still I'm bearing it. Pragya advises Shubra to try and save her marriage for her children's sake. Shubra says their kids are the one who is uniting them than Shubra leaves once she get her daughter call.
Shahana asks Prachi to stay away from Rhea. Prachi says I planned to talk and share many things when I got my sister but it didn't happened. Shahana asks her to feel her as her Sister. Prachi thinks to call Pallavi to know about her health. Shahana advices her to call Ranbir to know it. Ranbir gets Prachi call and he gets thinking Rhea may revealed their marriage news to her and he attends the call and Prachi asks him about Pallavi aunty. Ranbir says fine than he about to tell her about Abhi marriage with Meera aunty but Call gets disconnected. Shahana says they are unromantic and why everyone call is disconnected like someone places jammers to steal this shop. Prachi leaves saying she is mad.
Ranbir thinks Prachi didn't know anything, both news will make her tensed but I have to tell Prachi regarding Rhea matter.
Abhi returns necklace to shop owner. Saritha comes to Abhi and saying she wants to talk with him.shop keeper about to leave but Abhi asks shop keeper to keep the necklace in safe. Thieves notices Necklace and calls their man to execute the plan. Abhi and Pragya stares at eachother. Rhea dashes with Shahana. Prachi apologies to her and Shahana gets angry but Prachi says my parents are here so don't create any scene, try goes to washroom to clean her dress. Rhea asks Abhi to see her shopping. Abhi says he will see them later. Shop keeper asks Tony to keep necklace and ring in locker but he runs with them. At that time thieves fore their pistol and warns everyone to stay in their places.