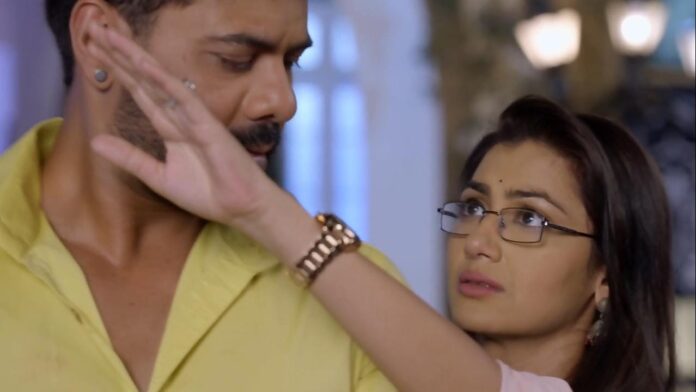 Kumkum Bhagya Upcoming Story, Spoilers, Latest News, Gossips, Twist On SerialGossip.in
Zee TV popular show Kumkum Bhagya serial is witnessing some major turning points these days in their story.
As reported earlier Pragya shockingly says your marriage card with Meera. Abhi asks if she is happy? Because he is fulfilling her wish. Pragya says you will know how much I'm happy seeing my dance at your wedding. Abhi says why to wait until the marriage day? Tomorrow is engagement so give your Dance performance tomorrow itself and he leaves. Prachi follows Abhi and asks why he is doing this marriage. Abhi leaves saying it's because if her and Rhea. Saritha tells to Prachi that Abhi decision is because if her fights eith Rhea. Prachi can't believe it. Dadi asks Pragya to stop the Abhi marriage but Pragya denies. Pallavi overhears Ranbir decision to create hate for him in Prachi heart and she feels bad. Vikram asks her to allow Ranbir to marry Prachi but she denies.
In the upcoming episode viewers gonna witness that Pragya introduces to Aliya and others that Prachi as her and Abhi daughter. Mitali and others looks shocked. Aliya says relations may get changed. Pragya says we become ex husband and wife but our relation won't get changed. Later Abhi tells to Pragya that he didn't decided what to wear. Pragya says your likings are changed so you must wear what you don't like. Abhi pins Pragya to wall and happily says your nose turns red when you're angry. Pragya says so you're making me angry intentionally. Abhi says youre not happy with marriage right? Tell me what your heart wants to tell me.
Can Pragya reveal her heart feelings to Abhi? Can Abhi stop marriage for Pragya?
All these questions will be answered in the upcoming episodes.
To know what will happen next in your favorite show, keep checking this space for new and exclusive updates.