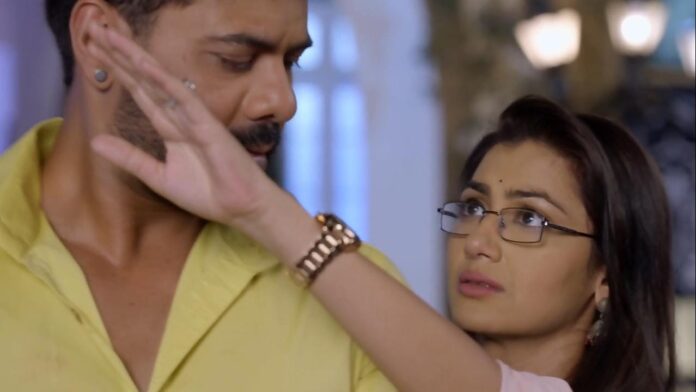 Kumkum Bhagya Upcoming Story, Spoilers, Latest News, Gossips, Twist On SerialGossip.in
Aliya discusses with Mitali what if Abhi cancels the marriage after meeting Pragya and this Meera can't behave like Tanu and she thinks for another plan.
Pallavi feels happy that she is getting discharged. Ranbir goes to thank doctor. Doctor asks them to never give any tension to her because her heart is weak. Vikram and Ranbir looks on. They takes Pallavi from hospital.
Shahana says do you feel Mr Mehra goes against Rhea for you and Aunty. Prachi says I'm also his daughter and he loves me. Shahana says their is meeting happening between you Mom and Dad. Prachi says they will clear differences. Saritha says it's true than they sees Pragya back to home and asks what happened. Pragya says nothing in tears. They feels something is wrong.
Pallavi says I'm happy to unite with my family again. Aryan comes to Pallavi and asks how is she. Pallavi scolds him for not meeting her at hospital. Aryan agrees how he slept whole day after drinking so much. Ranbir asks Pallavi to take rest and they goes from room. Aryan says Ranbir changed so much. Beeji says he is tensed for many things. Aryan goes behind Ranbir to know the matter.
Mitali says to Aliya that Abhi is back and calling everyone downstairs. Aliya says maybe he is calling us to tell marriage is cancelled. Mitali asks her to think new plan and goes to call other family members.
Everyone assembles in hall. Abhi asks Meera if she can love Rhea like a mother after their marriage. Meera agrees. Dadi says Abhi these people lost mind and saying that you're agreed to marry Meera. Abhi says you don't have second thoughts right. Meera says yes. Abhi says so everything is final tomorrow is engagement and one week later marriage. Tai ji says how can they arrange everything in this short time. Dadi ask him to rethink but Abhi says he wants to marry for Rhea who needs mother and he asks Aliya to do cards work and tells he wants to give first card to Pragya. Dadi asks him to rethink but Abhi goes. Aliya,Raj feels happy.