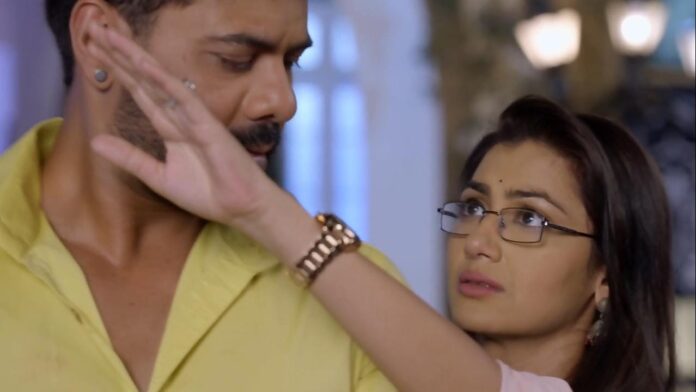 Kumkum Bhagya Upcoming Story, Spoilers, Latest News, Gossips, Twist On SerialGossip.in
Episode starts with Abhi searches for Pragya. Ashok wife hides Pragya seeing Abhi in their way, Abhi asks if she saw his wife. Ashok wife sends Abhi other way. Pandit says next 8 hours are dangerous for Pragya and her husband and we are doing this Havan for their safety and we have to do this Havan pooja without interruption otherwise it's risky for them. Saritha and Dadi prays for Pragya and Abhi.
Abhi feels something is wrong and he goes back to Varsha side. Ashok wife Varsha hides Pragya in room. Abhi came to that room and about to caught her but Aunty came and inform to Abhi that Pragya is waiting for him. Abhi asks Varsha for Ashok number. Varsha tells him that she will give taking from her mobile. Aunty asks Varsha to lock the room and takes Abhi with her.
Abhi notices Pragya is not that place and goes inside to search for Pragya. Ashok mom calls Ashok and asks them to reach before Abhi caughts them. Ashok agrees and asks driver to drive fastly.
Abhi goes to that room and calls Pragya. Pragya gains conscious and she asks him to open the door. Abhi reminsces how Varsha locked the door and tells to Pragya that it's not safe place for them. Pragya says I'm about to tell the same to you but Varsha makes me Unconscious and locks me in this room and this Ashok and previous killers are belongs to one family. Abhi tries to break the door but Varsha and her Mom in law beats Abhi. Abhi says he can't beat ladies. Pragya says Mr Mehra won't you have Shame to get beaten by ladies. Abhi says he can't bear it and opens the door after sometime.
Pragya asks him to untie her and asks how he entered inside. Abhi tells her how he tied them without raising his hand on them. Pragya hugs him. Abhi says Ashok sister wants to tell me something maybe she didn't because of her family and he tries to call Purab but notices his sim is missing. Abhi says it's trap so we must escape from here. Pragya says we can escape fro window. Abhi asks why she didn't left after knowing it. Pragya says she can't leave without him. Abhi kisses her forehead and they escapes from room. Varsha and her Mom in law notices they are escaping. Ashok and his brother reaches to home. Killer leg gets tripped and Ashok about to go inside but his wife informs him that they are escaped and going to their car side. Ashok says their keys are with me and goes back. Helper sets Hitman leg. Snake asks Varsha and her Mom in law about Abhi and Pragya. Varsha says they escaped. Snake kills Varsha in his temper.
Abhi and Pragya sits in car and notices keys are not with them. Killers surrounds them, Ashok shows car keys of Abhi to him. Abhi start car and escapes from that place and tells to Pragya that those keys are my car one and I have uncle car keys. Pragya hugs him happily. Abhi says Kismat supports me when you're with me. Pragya smiles happily. Ashok cries seeing his wife dead body and avenges to kill Abhi and Pragya. Hitman follows Abhi in police jeep.